Working at Leon Paul definitely comes with unexpected tasks and experiences. If you don't believe us, just ask our Instagram girl Johanna, whom we sent to Paris this past weekend on a quite extraordinary mission: at the gala held at the Grand Palais in Paris to celebrate the 105th anniversary of the International Fencing Federation, along with World cup fencer (and accidentally also her colleague) James Honeybone; she walked down the runway in what we think is a fencing uniform that could ensure the future of our sport by making it attractive for new audiences. Read all about that unique experience after the jump.
A "new face" among World Cup fencers - my experience of walking the fashion show at the FIE anniversary gala (and the idea behind it)
by Johanna
It all started on a Monday morning in October. Suddenly, my slight post weekend lethargy (classical case of after tournament fatigue…) was interrupted by an incoming email from our director Ben Paul. Subject line: Fashion show. If I still needed something to get me fully awake, that was it: Mention bags, frocks and kicks to me, and you usually have my undivided attention (Not for nothing, I am known as the shoeholic at Leon Paul and have already done
my coming out here on our blog
.) As words like "Paris", "Grand Palais", "fencing uniforms" popped up before my eyes, my excitement grew even bigger and so it might have taken me a few seconds to realise that Ben was actually asking me to represent our brand at the fencing fashion show hold at the 105
th
 anniversary gala of the International Fencing Federation in Paris. Though I was not entirely unaware of this "Leon Paul goes designer" project (Ben had been working on it for quite a while already and had even shown me the first drafts for the
blog post series created on this occasion
), the question of who would model the runway clothes hadn't really crossed my mind. And so now it should be me, who had taken up fencing barely four years ago , thanks to one of those funny twists of fate? On the stage of the
Grand Palais
(where even the likes of Chanel do their fashion shows!) in a unique uniform designed to offer a glimpse in the future of fencing (fashion)? Needless to say, I was thrilled (though also a tiny bit frightened), and said yes on the spot.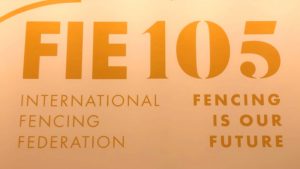 The motto of the 105 anniversary of the FIE (Picture © Leon Paul)
It was only later, when I got the first WhatsApp messages from Clément, whom
Nathalie Moellhausen
, the general organiser of the FIE gala, had tasked with the fashion show planning, that I fully realised what I had gotten myself into: When out of mere curiosity I glanced at the members of the WhatsApp group I had just been added to, at least half of the profile pictures looked oddly familiar to me… from the FIE pictures I usually go through after every international fencing event for my job. Most of my co-models would be Worldcup fencers – quite an
intimidating
overwhelming feeling if you're basically a fencing newbie and even participating in a national tournament is still kind of a big deal. However, there was no going back at that point, and not only for reasons of time. In the meantime the project had gotten a lot further, and we had pushed it in a direction, in which the participation of an "unknown" face like mine actually made a lot of sense. Indeed, as Ben explained in his recent blog posts,
he knew almost from the start that, for this years fashion show, he wanted to do a coloured fencing suit inspired by team uniforms
. What came a little later, though, was the
inspiration to refer to a very specific kind of community, that is e-sports and the "tribe" of gamers, by creating outfits that echoed the uniforms of famous e-sports teams
. We figured: If we were to do that fashion show, why not take it from an "end to itself" to something that might actually bring out the full potential of our beautiful sport and try to inspire new people to take up fencing? The future of fencing – which was the motto the FIE Gala was all about – obviously lies on the fencers practising that sport, so why not grow it and get new communities in? And if, as studies suggest, gamers might be particularly receptive to the charm of fencing, what could we do better than present fencing uniforms capable of inspiring e-sports athletes and fans through a design that echoed the uniforms of "their" teams? The whole thing done in sabre, the fastest weapon, and therefore probably the most likely to get new people into fencing? That way, our fashion show uniforms would act both as a symbol of the crossover between the fencing community and the world of the gamers, and as an outlook into the future of fencing, when those communities (auspicably) will have merged and have freed synergies.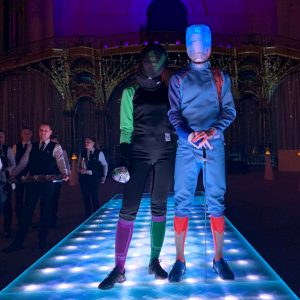 If outfits like these can't inspire people to try out fencing, then what can? ;) (Picture © Leon Paul)
From that point of view, the association on the runway of a world cup fencer, aka my colleague James Honeybone, and a fencer that hardly anybody would recognise was actually the perfect match: James, currently ranked 37
th
in the world in men's sabre, would represent the community already initiated to fencing, so to speak the current status of this sport, while the "nobody" (aka me) was thought to be a placeholder for the new public of gamers we wanted to fire up about the art of fighting with sabres (and foils and epees). As I am one of the masterminds behind our social media accounts (or if you prefer our "
Instagram girl
") there was even a kind of crossover between my online-based job and the community we were trying to reach out to. Not to mention that, as an epee fencer, I was a complete novice to sabre fencing (in fact, after the show, I got countless remarks of friends affirming that I had been sporting the wrong weapon on the runway...) – talk about another thing I had in common with a public that still needed an introduction to fencing. (Granted, probably nobody would get all this while we were walking the fashion show, but this is what this blog post is for, right ;) ? )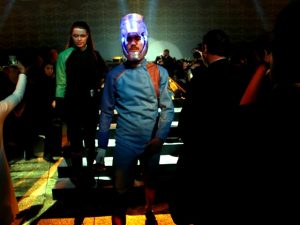 The big day (Picture © Serge Timachef)
But back to the big event itself: Soon enough, December was there and after some minor last minute frights (always count on DHL for some unexpected delays when you're desperately waiting for your fashion show uniform to arrive…) James and I were already headed to Paris. The rehearsals (and the very revealing initiation to sabre fencing for me, the hardcore epee fencer), though held under slightly unpredictable circumstances due to the protests by the yellow vests, were over in the blink of an eye, and there we were: sitting in the backstage of the Grand Palais and getting our hair and make up done, with the music for the other parts of the show (various dancing performances, but also a Russian opera singer and orchestra) as constant background sound. To me, the whole evening felt as if someone had pushed a fast-forward button (in the pre-show excitement I may infact have forgotten the key to the locker containing my uniform at the hotel...) , and so it seemed to me we barely had been in our backstage corner when Clément called us for the line-up, and we got on our places behind the black curtains and waited for our cue. The music started to play and we were out on the stage. See for yourself what James and I looked like (thanks to the
Instagram account of the FIE
for that footage!) : And that was the whole group, which made the whole experience all the more extraordinary: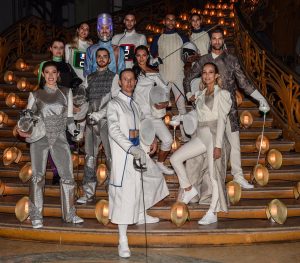 Fencers from all over the world for the FIE fashion show (Picture: © Augusto Bizzi)
Thank you to the FIE, to Nathalie Moellhausen, Clément and the whole team of organisers, and of course all the other fencers walking the show, for an unforgettable time in Paris! A huge thank you also to the whole "Leon Paul Family" (both in the literal and the broader sense), to our directors Barry, Alex and Ben, to our tailor Vincent, who manufactured the uniforms in our London factory, as well as my to "partner in crime" James Honeybone and his girlfriend Kate, who was the best roadie (and occasional camera-phone holder) we could wish for backstage.
And in case the mask sported by my colleague James Honeybone in the pictures caught your attention: See you back here on this blog in a few days, when Ben Paul wil tell you more about that Iron man mask and how we made it (Spoiler: Lots of groundbreaking technologies involved!)!