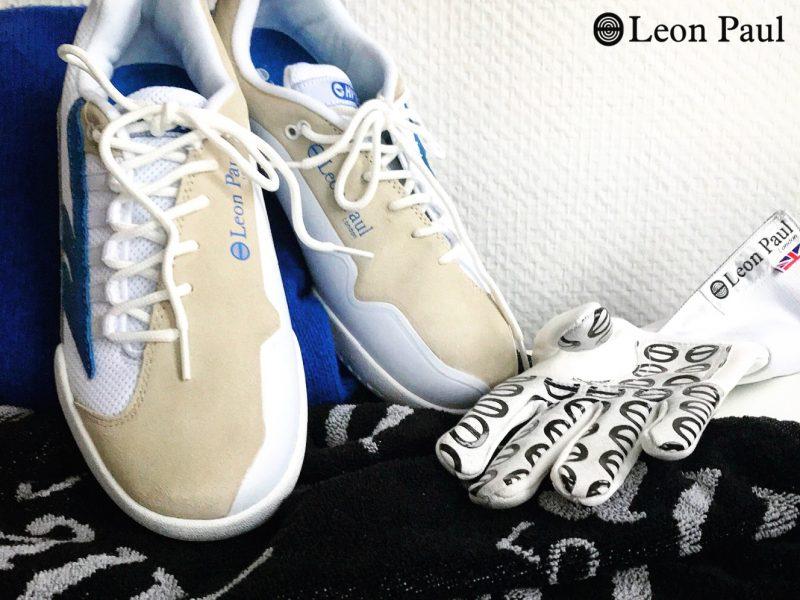 When you're looking for good trainers specifically designed for fencing, the market doesn't really seem to offer much choice: a few models proposed by the two giants of sportswear brands (recognisable either by an emblematic swoosh or iconic three stripes), and that's it, right? Well, not quite: Since 2018, there is also the Razor fencing shoe, a style developed by Leon Paul in cooperation with the Anglo-Dutch brand Hi-Tec. We had them tested by Johanna, one of our employees, who is a (very active) fencer and also nurtures a deep passion for shoes. The perfect human guinea pig for the task. Read on to know all about her first impression of our new shoes. 
"
Hello, I'm Johanna, and I'm a shoeholic". Although in real life I've never used that introduction line before, to tell the truth there could hardly be a more fitting one. Loafers or boots, flats or high heels – I'm invariably fond of footwear in all its forms. I'm the kind of girl to have a shoe closet extra shelves in my vestibule to host my collection and you'll barely ever see me with the same pair of kicks two days a row. Strangely (but luckily for my bank account) there's one area of my life that so far has been spared from my shoe predatorism, and that's fencing. As much as I enjoy fancy feet whips in any other circumstance, whenever I enter a fencing hall I considerably lower my shoe game and you'll most certainly find a pair of black-and-white Nike Ballestra trainers glued to my feet.
The testing set-up
But (admit it, we all knew there was a "but" coming…), turns out it is true what they say: a leopard can't change its spots, and so when I found out that Leon Paul was releasing a new fencing shoe in collaboration with Hi-Tec I couldn't help but feeling naturally attracted to it. All the more since I had already had the chance to take a glimpse at the prototype of the so-called "Razor" fencing shoe in our London headquarters long before it came out. (Working for Leon Paul definitely has its perks.) Yet the best for the shoeholic in me was still to come: I have no idea whether my superiors had gotten wind of my (not so secret) addiction or whether it was just a coincidence, but they asked me whether I was up for testing these trainers under "real life fencing circumstances". Needless to say, I was more than willing to give in to another shoe craving and threw my style resolutions about being a "black-and-white only" fencer over board within seconds. (When it comes to fashion, consistency had never been my strong suit anyway). Not even 24 hours later, I went to practice with my new white-beige-and-blue companions in a size UK 8 , after my "fitting session" to pick out the right size (or what I thought was the right size at the time, but more on that later) had taken a bit longer than expected.
Speaking of practice: In case you're wondering where a Leon Paul employee fences, I mainly train in a small club near my current town of residence, where I go two to three times a week for group training and individual lessons, almost exclusively in epee (which is the weapon that got me into fencing). We may not be the strongest or biggest club in our area (although we're actually pretty good, considering the little to no funding we have), but we're a close-knit group and have an amazing headcoach, so I never felt the like changing anything about my training routine. One side effect of the group spirit in a small club like mine – and this now brings us back to the Razor shoe – is undoubtedly that you know each other very well…gear included. So it didn't really come as a surprise to me that, as soon as I had crossed the doorstep to the fencing hall, my new shoes were the centre of the general attention.
First visual impression of the Razor fencing shoe
What did surprise me though was the extent of my club mates' attentiveness, because the Razors were literally scrutinised in every detail. Not only their most visible and distinctive feature, that is the asymmetrical lacing, got a lot of comments ("pretty ingenious feature when you lunge, why has nobody ever thought of that", said one of my friends), even smaller attributes such as the fabric combination ("Is that suede and mesh? May I touch it?") and the PU insert in the toe area were duly noticed. Especially this last fact really astonished me, because that transparent PU insert is really nothing that screams out to you – I dare you to spot it in the product pictures! – and so I kind of had considered it like a "hidden asset" of the shoes. Turns out I was wrong – it's not that hidden ;) (In case you're wondering how such an apparently minor detail could be an asset to a fencing shoe: the PU is located on the inner side of the forefoot and will therefore prevents abrasion when you drag your back foot over the fencing piste when you lunge. Especially if you fence on metal pistes – which I nickname shoe-killers – you'll appreciate this, because it will considerably increase the lifespan of the shoe.) And because, last but not least, the general look of a shoe is more almost as important as its features to make your fencing life easier, I won't spare you the remark of a friend of mine: "Really nice kicks, they look a lot better than in the pictures you showed me." (Confession: Not being able to keep my mouth shut about my test-objects-to-be I may have forwarded the Razor shoe pics from our online shop to some of my fencing friends a few hours before showing up at practice.) 
The Hi-Tec x Leon Paul Razor shoes on the fencing piste
However, the really interesting part of my shoe testing experience began after everybody had calmed down and we started our exercises. Would I notice any difference from my usual, beloved Ballestras, or, even worse, had I been a tiny bit too optimistic to take these shoes to fencing right away, without a few test runs to make sure I wouldn't end up with blisters on my feet after three hours of training? But – good news not only for shoeholics – my fears were unfounded. Unlike many other pairs (strappy heels, I'm looking at you!) the Hi-Tec x Leon Paul Razor fencing shoes definitely don't need to be "broken in". In fact, from the first warm-up exercises (running and then footwork), I noticed how comfortable the Razor shoes were. The inside felt soft and padded, without any sensation of heaviness. As the inside lining has moisture-wicking properties, my feet felt fresh and dry throughout the whole training session, just like with my usual Nike fencing shoes. And as I noticed when we got to the more demanding and fencing-specific exercises and started to work in pairs on speed and agility during sudden direction changes, the Razors' grip on the floor was outstanding as well.
A few words about sizing….
I had every reason to be happy, if it wasn't for one sensation I wasn't quite able to get rid off: Especially when I did little jumps followed by a lunge, I had the impression that somehow the shoes were a tiny bit too big and started dangling on my feet. Not ideal if you (or your fencing coaches…) want to focus on improving your footwork! This was the moment when my veeeery long fitting session came to my mind again: from the start, in fact, I had been torn between the sizes UK 7 and UK 8 (for reference, my usual size is between a UK 6.5 and 7 or EUR 39.5 to 40.) I had decided to size up to the UK 8 in the end, because I had the impression that in size 7 I was touching the front of the shoe with my toe when lunging and I had always been told that this was to be avoided at all cost. Should this have been the wrong decision for the Razor shoes? (Fast-forward to 48 hours later; yes it was!) The next day, I asked our warehouse whether I could continue the test with a size UK 7, and they agreed…luckily for me and for you, dear readers. Luckily for me, because the next training sessions showed me that I had taken the right decision: the size 7 definitely felt a lot better, especially when actions got more dynamic (this is even confirmed by a few foil matches, the second weapon I occasionally fence just for fun). And luckily for you because now (that's the whole point of a  product test and review like this, isn't it?) I can give you one first piece of advice: Don't buy the Razor Fencing shoe too big, and never size up more than half your usual size. In the size that is right for you, you might slightly touch the front of the shoe with your toe, but due to the soft, padded interior this won't be a problem, even after hours of fencing.  
Do you want to know more details about the Hi-Tec x Leon Paul London Razor fencing shoe and how it compares to other trainers on the market? Then see you next week, here on the Leon Paul Blog, for a more detailed comparison with the Nike ballestras (plus more sizing information for both the Hi-Tec Razors and Nike).