The shoeholic is back! (You remember the confessions of Johanna, our footwear-addicted employee, from last week, right?) We obviously couldn't leave it at a report about her first impression of our new Hic-Tec x Leon Paul London Razor fencing shoe, but also asked her to weigh up  the Razors against the Nike Air Zoom fencing shoes (also known as "Nike Ballestra") in order to help you choose the style which suits you best. Read on for the full comparison, including size and fit of both trainers.
Hello again, fencers – it's time for the second part of the product review of the
Hi-Tec x Leon Paul London fencing shoes
, aka a comparison feature. Because shoeholic or not, when it comes to choosing a fencing shoe, we're all in the same boat: we want the shoe which is best for us and will help us achieve our goals on the fencing piste. (Oh, and if it was also durable and good-looking, that would be the icing on the cake). So, in this respect, what's there to say about the Hi-Tec x Leon Paul London Razor fencing shoe and the
Nike Ballestras
(which is the shoe I had been using for more than two years before my product test started)? I'll try to break it down for you:
General Impression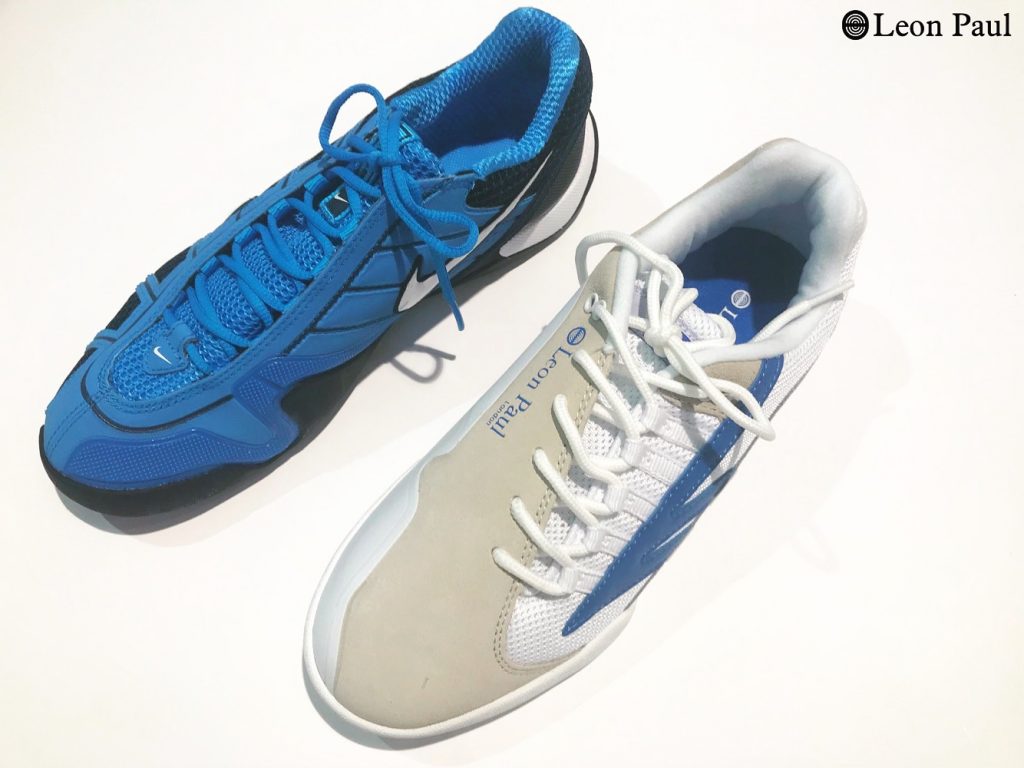 To introduce to the two styles we're comparing here, it's probably best to go with the good old "A picture says a 1000" words… and elaborate a bit on the picture above. The visually most distinctive feature (which also has been spotted right away by my club mates) of the Hi-Tec x Leon Paul Razor as opposed to the Nike Ballestra is for sure the asymmetric lacing, which combined with the material mix makes this shoe really stand out from the crowd of the usual fencing shoes. If you want a particular style, the Razor is definitely your best bet. (The only detail to dampen the enthusiasm of a true shoeholic: it's choice of colours. While the Nike Ballestras come not only in
blue
, but also in
black and white
- not to mention the limited edition colours, given you're lucky enough to find them in your size - for the moment the Razors exist only in one colour combo. But maybe there's hope for some limited editions to change that… ) However, let's not stop there, at these (very) superficial impressions, but dig a bit deeper into some astute details which make both the Razors and the Ballestras perfect for fencing. As it's typical for kicks meant to be sported in a fencing hall, they both feature a relatively low profile sole with increased cushioning in the heels area in order to offer you agility and speed during back-and-forth movements (very hard, if not impossible with chunky soles, trust me…due to my own forgetfulness I had one fencing lesson in my life in outdoor running shoes and I don't want to do this again, ever!) as well as perfect shock absorption when you lunge. Now you might say that those are characteristics which might also be found in trainers designed for other sports– squash or tennis for instance – where prompt direction changes as well as jumping and landing are required, and there's obviously some truth to this assertion (Hi-Tec indeed used their experience in the field of squash shoes to produce the Razor!). But there is one detail in both the Hi-Tec x Leon Paul London Razor and the Nike Ballestra that's really specific to fencing, and that's the abrasive resistant material you'll find on the inner side of the shoe. Located exactly in the area put under major strain when you lunge and drag your back leg over the fencing piste, this detailing will considerably increase the lifespan of your fencing shoes, especially if you're fencing on metal pistes. I personally fence only occasionally on these and therefore never had issues with excessive abrasion, but I've been told by both fellow fencers and Leon Paul costumers that this is indeed the weak point of the Nike Ballestras, which, despite the reinforcements, seem to get damaged quite easily in this specific spot. Since the Razor shoes feature very resistant-looking PU in the this critical area, I'd expect them to last longer (my test pair at least didn't show any signs of wear  there, even after weeks and months of use! But then again – just for you to put that finding into context – I am an epee fencer and much stronger in defense than in attacks, so in an actual fight I might lunge a lot less than the average foilist or sabreur….)
Traction on the piste and weight
Speaking of jumping and moving on the fencing piste: there is obviously one decisive physical parameter to determine how easily you'll achieve the desired speed, and that's weight. Generally speaking the calculation is: the lighter your equipment, the faster you are (Hence the wide-spread obsession with light-weight equipment among fencers... ). In this regard, the Nike Air Zoom fencing shoe definitely bears its name well: in a size US 7.5, which is the size I use, it only tips the scale at 290g for one shoe, while the Razors are just below the 330g mark. The Ballestras will as a result allow you to save a bit more than 10% weight, or about 100g for a pair, on your shoes, which probably explains why it's a favourite among international top fencers, for whom every little detail counts. Having said that, the grip on the piste is excellent for both the Nikes and the Razors and 330g is obviously far from heavy for a shoe (out of curiosity I put my Supergas and Adidas Stan Smiths on the scales, and they were both heavier!) and if you're a recreational fencer you probably won't really feel the weight difference when doing your footwork. In fact, more than the weight itself it's also the fit to determine how comfortable you're going to be in your shoes, so that's the main variable you should keep in mind when making your choice.
Sizing
The key to a perfect-fitting shoe is obviously finding out which size is right for you, which can be a tad tricky when ordering online. Hence my heads-up for you: as most trainers, both the Razors and the Nikes tend to run small. For the Nikes, whose sizing is originally American, I'd recommend to go up a half size from your usual size using your UK or EUR size as a reference. As an example: I'm a UK 6/ EUR 39.5 to 40 in most pairs, and got the Nike Ballestras in a Size US 7.5, which according to the official table converts to a UK 6.5 or EUR 40.5. (Special advice  to the ladies: please note that the Nike Ballestras come as a unisex shoe and that sizing is therefore based on the US-American men's size chart, where the numbers are different from the ones for women! In regular US-sized women's shoes I'd be a 8.5, but if I took the Ballestras in this size I'd find myself with a UK 7.5/EUR 42, which obviously would be way too big!)

In case you're wondering how to be sure to have picked the right size in the Ballestras: If you have more or less one half-inch of room in front of your big toe and don't hit the front of the shoe when lunging, then you're most probably good to go (fencing). The old rule of thumb "when you touch in front, the shoe is too small" perfectly applies here! For the Hi-Tec Razors, in the other hand, things are a little bit different: in line with the brand's origin, come in UK sizes and run wide, but short, so there I'd recommend to size up as well... at least a little.

Because as I've mentioned already in
last week's product review
, there is one particularity about the Razor shoes that you should keep in mind: if you try to stick to the aforementioned guideline that your big toe should never touch in front, you might end up with a size that is actually too big for you (as I did). So just for this once, forget what you think to know about fencing shoes and their supposed fit and dare to go for the smaller size if you're undecided. (This means you'll probably end up with a shoe that is half or maximum a whole size bigger than your usual size; I'd really discourage you from sizing up more.) The inside padding of the razors is so soft and will adapt to the shape of your foot, so that the shoe will still be comfortable even if you have the sensation that your big toe is quite close to the front, when you first try it on. This is just how this style is cut to fit… which brings me now to another point worth considering when making your choice.
General fit
In fact, it's in terms of generic fit the Nike Ballestras and the Hi-Tec x Leon Paul Razors are most different, so I really recommend you ask yourself what you need and expect from a fencing shoe. Do you need comfort over support or vice versa? As I mentioned in last week's product review for the Razors, the Hi-Tec trainers are incredibly comfortable due to the soft interior padding; it's like walking on a fluffy mattress. I've noticed this to be especially true for the heels area and for the sole in general. With the Nikes you'll definitely feel the floor a tad more! (You'll have to decide for yourself whether this is an advantage or an inconvenience; this choice is really a question of personal preference and goals that you have for your fencing). However, especially if you're a women and have narrow feet, you should be aware of the fact that the comfort of the Razors might come at a price...that is the price of a little less side-support in the fore-foot area. As mentioned above, the Razors tend to run short and wide, which means that if you have narrow feet, you might still feel the Razors to be quite roomy in the toe area, although you're actually wearing the correct size. Most men will be perfectly happy with the Razors, but I've seen some women preferring a snug fit in the toe area go for the Nike Ballestras after a direct comparison.
Price and overall valuation
Oh, and did I just say price? Obviously, when it comes to choosing a fencing shoe, there's not just the metaphorical price mentioned above to pay (aka the not-so-easy choice between comfort and support to make), but also a very concrete price tag to consider. And it's here, when we're talking money that we come across another huge difference between the Razors and the Nikes: the Hi-Tecs, in fact, retail at only 75 £ (even less in the
children's sizes
exempt of VAT),  while for the Nikes you'll have to shell out 147£ .  At this price point, the Razors, considered all their features, are definitely a great value for money, which makes them interesting choice for beginners or fencers who (have to) change their shoes very often due to abrasion or simply because they are still growing (or purchasing these shoes for a child).  The Nikes, on the other hand, are definitely a high-end shoe for a customer base ready to pay for the extra lightness they provide (and a great purchase if you like a snug fit in the toe area and have narrow feet). So in the end, which one of these pairs you'll go for will depend on what you want and what your ambitions in fencing are: if you're an aspiring athlete with goals set very high and want the lightest fencing shoe on the market with excellent support, then you'll probably be better off with the Nikes and their classical design and style. If you're a beginner looking for the best value for money or if you just want a comfortable allrounder with some features that make it stand out from the crowd, then you might be happy with the Razor shoe.
Happy shopping!