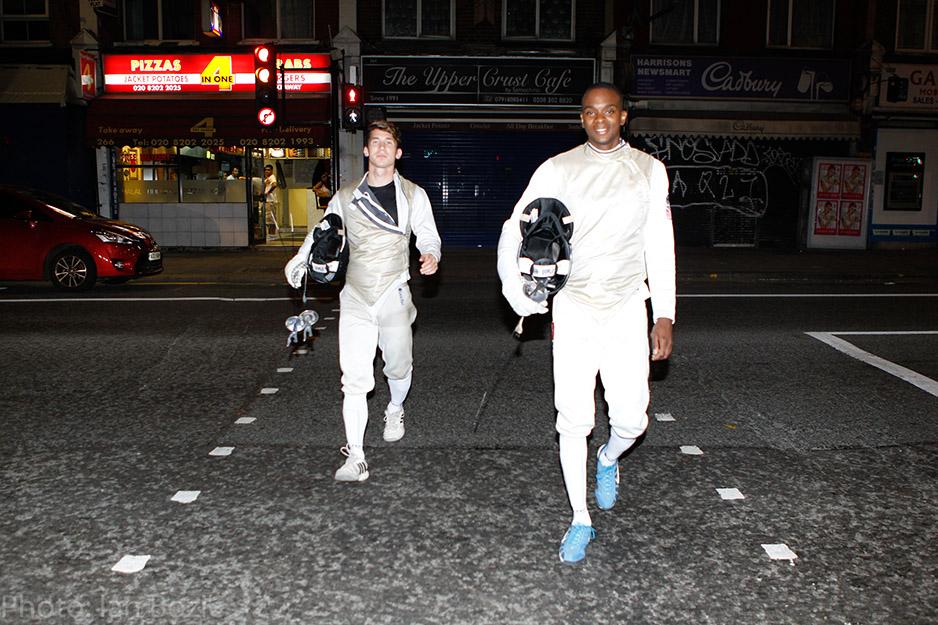 I hate outsourcing. It is something I am not very good at and it always causes me problems. I think to outsource work well, you need to be very detailed at the start of the process, you need to be able to accept that you have limited control and that sometimes things won't be done as you would do them. I hate these things and that is why for the last 15 years I have tried to do everything in-house, at Leon Paul, in London. This way I can control everything and feel in charge of the companies own destiny. Unfortunately for me, I am not brilliant at everything, I don't know everything and sometimes to get to where you want to be you have to trust other people. I know what you're thinking…
"have Leon Paul outsourced to China like everyone else!?"

No we have not!
I try to do everything in London, this goes from manufacture of products right through to the advertising and promotion. So for as long as I can remember when we needed to do a new advert we did it in-house when we needed a new video promotion we did it In-house. As you can see the results started badly, improved over time and finally were quite good but…. Sometimes you need a professional.
When we wanted to do a video about the new wireless I had a grand vision of fencing being done all over the world in loads of cool locations and so we tried to do it ourselves in-house….
https://www.youtube.com/watch?v=6ohzyVHjqMY
It was ok, but, hardly what I had envisaged so we decided to try again and this time we got in professionals. We chose a company called Produkt who are a start-up company but run by very experienced filmmakers. http://www.produkt.me/
After a site visit the Produkt team went off and came back with a full script and a plan for a 2-day shoot with about 12 locations. Here are some notes and details from Paul King, Director of photography for the film.
When Leon Paul approached us with the plan to shoot a film promoting their new wireless fencing technology, my first thought was that this needed to be shot in a fluid and dynamic manner. Martin Swift, one of our directors, came up with the treatment that the fencers should be seen in many locations, including urban, rural and sports related. The camera and fencers would need to be constantly moving

We decided to shoot the film using the Canon C300 Mkii Camera with Canon CNE Prime lenses. The camera was mounted on the Ronin Handheld gimbal system, which allowed freedom of movement for both the camera operator and the fencers. The framing of each scene was very carefully considered and we decided to shoot at 2k (17:9) and applied a 2.39:1 aspect ratio in post production.
[caption id="attachment_870" align="alignleft" width="840"]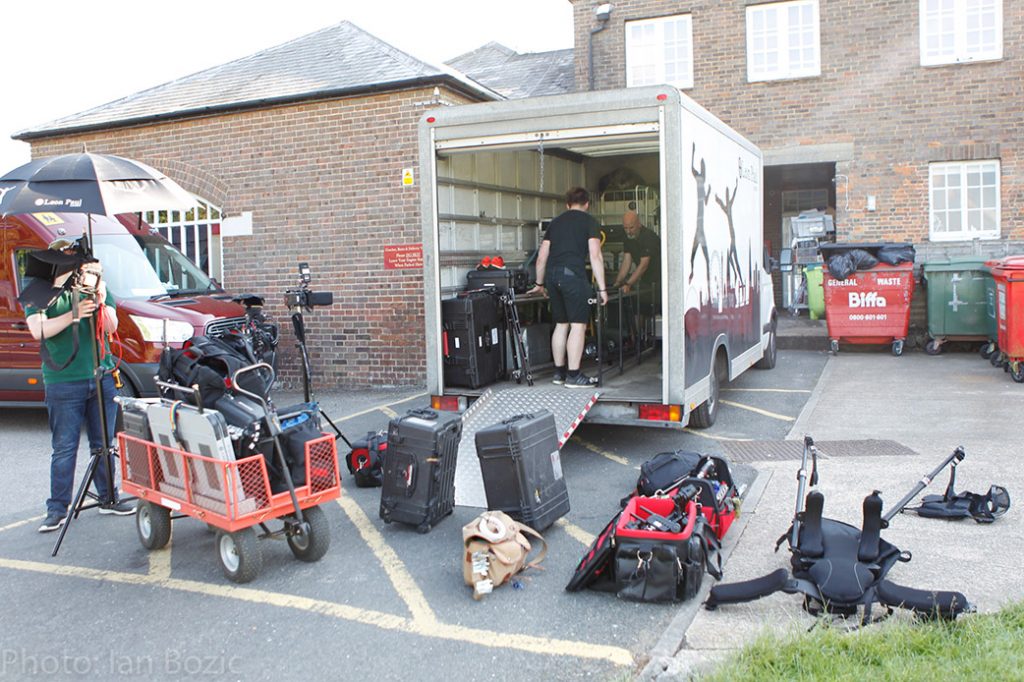 All the gear for the film[/caption]
We decided to do the shoot with Richard Kruse and Marcus Mepstead as they trained in London in the Leon Paul fencing centre. 1 week before the shoot Richard injured his back and so we had to find another fencer with very limited time…..
[caption id="attachment_877" align="aligncenter" width="300"]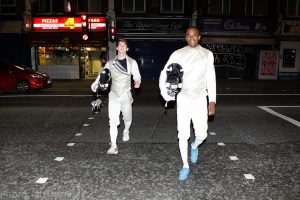 Enzo comes to London[/caption]
Enter Enzo Lefort. Luckily for us, Enzo was coming to London to visit his sister who studies at a University here. I chatted with Enzo and he was up for taking over from Richard and we had our team back in place. I did not know Enzo very well and so I was not sure how he would work for the 2 long days of filming we had planned. After the shoot, all I can say is that Marcus and Enzo are model professionals. Fun to work with but hard working to the extreme and did everything and more to get the job done well. If you are looking for fencers to do a good job ask these guys as you won't be disappointed!
[caption id="attachment_865" align="aligncenter" width="150"]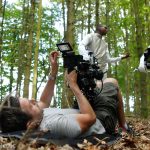 In the forest[/caption] [caption id="attachment_874" align="aligncenter" width="150"]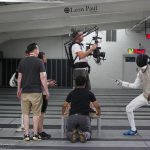 Filming at LP[/caption] [caption id="attachment_866" align="aligncenter" width="150"]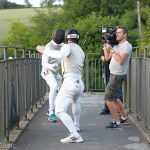 On a bridge[/caption]
At the start of the process Product manager said we needed to get a director and scriptwriter in and thought…why?
[caption id="attachment_862" align="aligncenter" width="300"]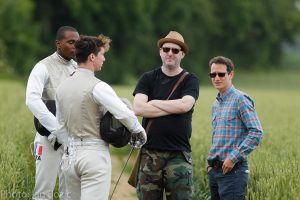 Do we really need a Director / Writer![/caption]
I had never really thought how the video should end, people fence and then someone wins and then fade to black. The director came up with the concept of the wireless product effectively killing wired fencing and thought that as a little homage to Indiana Jones we could have the old reels and spools dumped at the back of the warehouse… He even had the perfect actor for the job.
[caption id="attachment_873" align="aligncenter" width="300"]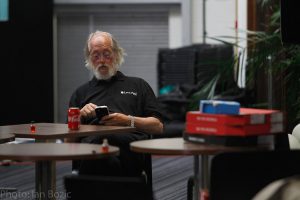 The man for the big finish. My Dad Barry Paul.[/caption]
Martin Swift | Director

Getting the chance to shoot Olympic Fencers for Leon Paul was a visual opportunity not to be missed,  The Wireless system immediately started me thinking around the concept of freedom of movement, with no restrictions with this system,  our fencers could literally fence anywhere. I wrote the treatment in a few days based on this concept and then we took a few more days to choose our location, thinking slightly outside of the box, trying to surprise the viewer and place our 2 fencers in unexpected settings. Starting with an initial familiar set up , the Leon Paul Training centre being the obvious opening scene, then we could jump into multiple unusual environment's, from gritty urban streets to grand exclusive schools to vast corn fields. With slick editing we could create the illusion of one continuous flowing battle. A bespoke music composition with some clever sound design gave the vital energy the film required. Smart graphics finessed the final edit giving it a premium look.

We shot in 3 of the hottest days of the year, so  special thanks to all the extremely hard working talented crew and  to the Fencers, Enzo and Marcus who gave me everything they had for 3 blistering days with no complaints.
What I learned from this experience is if you want the best sometimes you need to find the best and work with them. Experience is key and I have to say this was a great experience for me and for Leon Paul. Check out the work of the professionals...
https://www.youtube.com/watch?v=M-Hu1R08hIo&t=7s
Final Thoughts from  the Filmmakers:
Paul King, Director of photography
Produkt
The edit ran very smoothly with Editor Nick McCahearty working closely with Martin to produce what we believe to be a dynamic and exciting film. The final stage was to bring the film into Davinci Resolve for colour correction and adding a unique look. The music score was supplied by Michael Powell who worked closely with Martin on the brief. I'm very happy with the film that our team produced for Leon Paul and I think we hit all the points of the brief whilst sticking to budget.
Here are some behind the scenes images for the film.
[caption id="attachment_876" align="aligncenter" width="300"]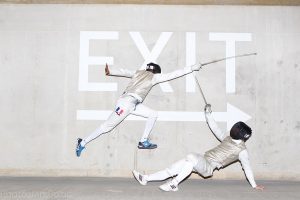 Exit Right.[/caption] [caption id="attachment_875" align="aligncenter" width="200"]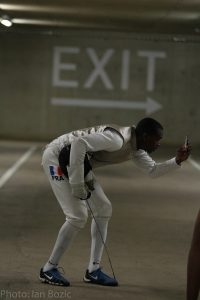 Selfie time[/caption] [caption id="attachment_872" align="aligncenter" width="300"]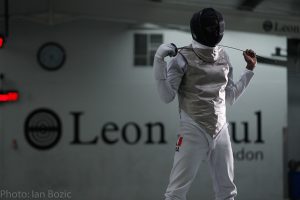 The Professional, Enzo Lefort.[/caption] [caption id="attachment_871" align="aligncenter" width="200"]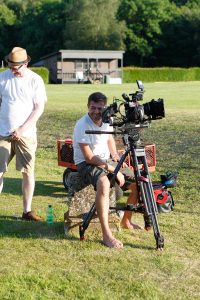 All the gear and loads of ideas![/caption] [caption id="attachment_869" align="aligncenter" width="200"]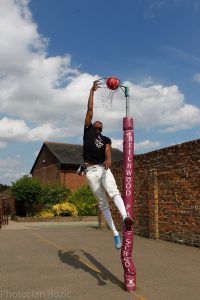 Enzo is also amazing at basketball so......[/caption] [caption id="attachment_868" align="aligncenter" width="300"]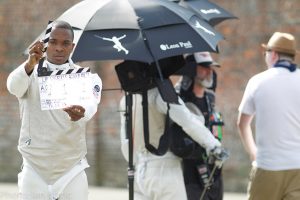 Action time[/caption] [caption id="attachment_867" align="aligncenter" width="300"]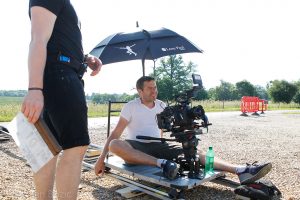 The Leon Paul umbrella in use on set![/caption] [caption id="attachment_864" align="aligncenter" width="300"]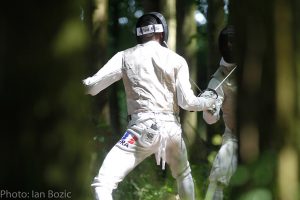 Get off your computer and get outside and fence![/caption]