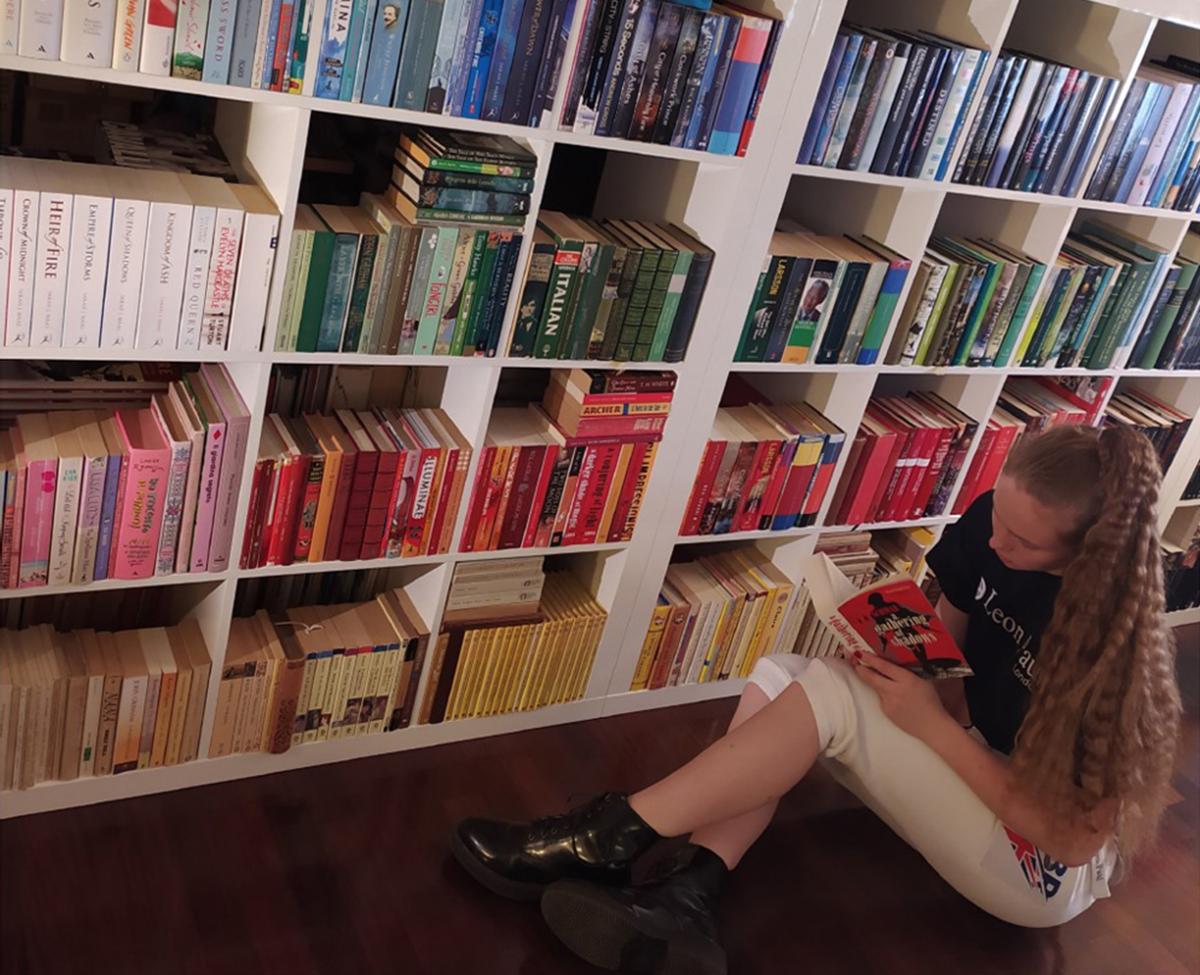 I have always been a big fan of reading and have accumulated a bit of a book collection over the years. I started reading at a very young age and have since been badly "into" reading. My mum started reading board books to me at 4 months as she had read an article at the time about how premature reading is beneficial to the learning process in children by increasing their concentration levels. By the time I was two, my parents would make sure they took a few books for me wherever we went. I would memorize the stories so I could read them to myself if there was no one prepared to read to me.
I learnt how to read in both English and Italian simultaneously, so I was an avid reader in both languages. In the summer I would often disappear for days, like the one time I read the Harry Potter series for the first time and didn't leave my room for a week. I had the habit of taking books with me no matter the occasion, even if going to eat out in a restaurant. I wasn't a particularly mischievous child, but I was often told: "Put that book down!" or "Turn that light off and go to sleep!"
By the time I was about 10 I would read many books from the library and then if they made it to the favourite's list I would ask for them for Christmas and birthday presents. I would also buy a large number of books from second hand shops in the UK during my long summer holidays (I still always find the time to go through the local book shops hunting for hidden gems). A big chunk of my collection was bought when I was 18 (using a 500-euro bonus that the Italian government gave 18-year olds to encourage them to spend money on cultural initiatives, from concerts to books). So I spent my 500 euro almost entirely on books… yippee! The rest I bought from small market stalls or my tiny local bookshop.
With the beginning of the global pandemic I took the time to go through them all properly. Over the course of the years I have filled my bookshelves but despite occasionally reorganizing them to make more space I very rarely had the time to actually sit down, pull everything off the shelves, go through my collection and clean!!
It was nice to try different organization methods: in order of colour, divided by genre but eventually I settled for height order. I own books from a lot of different genres from children's books to classics, from fantasy to adventure, from historic to romance, including a few fencing books! When I borrowed books from the library, I would read whatever was in the children's section, however by the age of about 13 I had finished their stock, so I moved on to more mature readings. My brothers both had a library card too but never took out their limit so I would often be able to walk away with more than 10 books before realizing that I would then have difficulty in carrying them all home.
Now as a University student and full time fencer my reading has taken a hit but with the pandemic and following all my university lessons online I have saved the 3 hour daily travel into Rome and back and have had the time to read more again. Through my books I'm able to leave the house again, at least in my imagination!