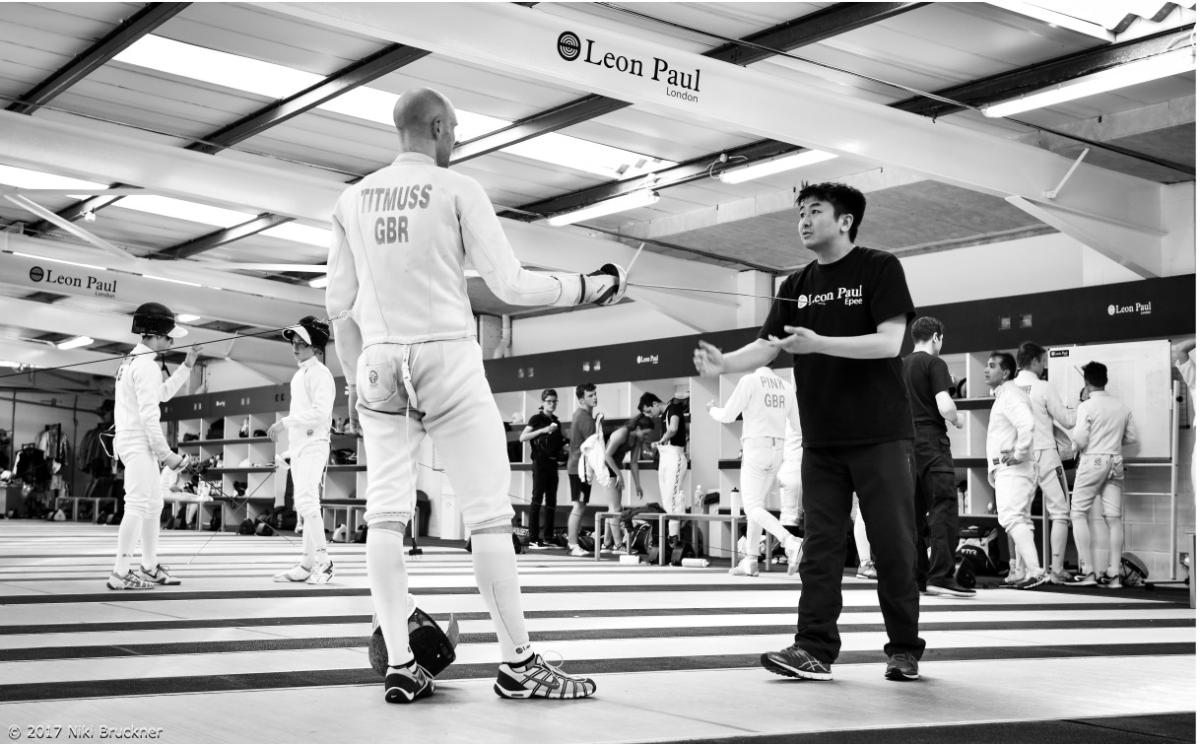 Six weeks of summer holidays without fencing? That does nothing for true fencing lovers, who will start to miss their fencing life after a couple of weeks. So Leon Paul's training camp in London in early August was the perfect match (and best mix of city trip, fencing fun, and language holiday) for Leon Paul sponsored Valentin Meka, a U14 sabre fencer from Dormagen, Germany. Want to know what happened when he decided to give up on his sunbed at the beach for a fencing piste? Read on...
Written by Valentin Meka
Everything started in December 2016 in France, under the Christmas tree. Huge gift boxes were waiting for my sisters, while I was handed only a tiny, tiny envelope. But as often, it's what's inside that counts: I unpacked an Oyster card, 20 pounds and the confirmation of participation for the Leon Paul International Sabre Camp! Together with my fencing friend Tristan and his family, I would stay in London for a week in August to attend Leon Paul's summer training camp (and discover the city). That was definitely an unexpected Christmas gift voucher I couldn't wait to redeem. On August 6th, my (fencing) adventure finally began. I took a flight from Düsseldorf in the evening (direct flight DUS-London Heathrow with British Airways, cost about 120 € including luggage), which brought me directly to the British capital. At the airport, Tristan and his father picked me up. Our room was booked at the Holiday Inn in Brent Cross, at about 2 kilometres distance from the Leon Paul fencing centre.
Training Impressions and Programme
Monday, 10 o'clock training started. Around 30 sabre fencers from all over the world, all between 8 and 15 years old, had gathered in the training centre. We were divided into groups according to age and fencing skills and then starting working our butts off right away. A playful warm-up, followed by some footwork and then we were already fighting the first matches. This programme would set the tone for the next week: we had daily partner exercises, theory and lessons with one of the four fencing masters. Training finished at 4 pm. – actually, the perfect timing, because there was still time to discover London. [caption id="attachment_1232" align="aligncenter" width="200"]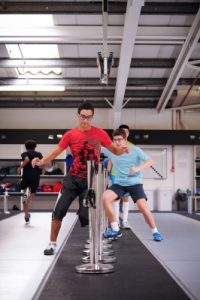 Warmup[/caption] The training intensity was ideal. Partner exercises always had a specific theme. For example: What's the perfect distance to launch an attack or how do you properly apply the line? In addition, I got helpful tournament tips during the exercises - how to get the right attitude before the fight or how to be motivated during particularly long tournaments. For each participant, there was also one private fencing lesson per day scheduled with one of the four fencing masters James, Soji, Ian and Alex. In retrospect, I am 100% positive that these lessons have really improved my fencing. Working with a fencing master who sets other priorities than the trainer at home is just incredibly valuable. As an additional feature, throughout the week, we also repeated the direct elimination matches that resulted from the seeding round on the first day, which was a great opportunity to learn from your mistakes. So, as a whole, the camp was a good alternation between free fencing and learning exercises. [caption id="attachment_1229" align="aligncenter" width="300"]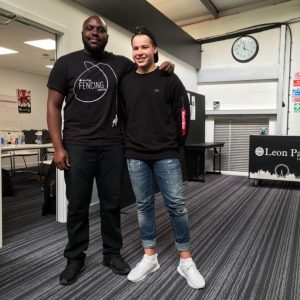 Me and my coach Soji, who gave me precious advice[/caption]
Socializing (and improving your language skills) between bouts
In the breaks between the matches, I had time to chat with the many other fencers. They were interesting guys. For example, Benedict, from the Anchorage Fencing Club, lives in Alaska and goes to a German school. A great opportunity for both of us to improve our German and English. In general, the camp and the social contacts have significantly improved my English. Although I was there with my German friend, I spoke and listened to a lot of English...and it was all linked to my passion for fencing. Definitely a more pleasant way to work on your language skills than a dull course in some boarding school...
A glimpse behind the scenes
On Friday morning, a special event was programmed:  Leon Paul invited us to discover the production facilities right next to the fencing centre. Needless to say that I jumped on this occasion....and I am glad I did because the factory was way different from what I had imagined: Before, I thought that a factory couldn't be anything else than a soulless organism. But in reality, the atmosphere was familiar, every employee had their own area of responsibility and all the fencing equipment is made by hand. For example, the worker in the mask making department checked each mask very thoroughly and improved it again and again. A small hammer blow here, an extra bend there –it was really impressive to see with how much care everybody was working on the kit. Some of the machines were constructed by Leon Paul themselves to meet production requirements.
Final tournament...time to show what you've learnt
On Saturday or Sunday, when the course ends (the exact day depends on which weapon you fence) the final competition -  the LPJS International Competition – takes place. It is a relaxed tournament among the newly won friends. Unfortunately, the year I attended the camp, we were only 8 fencers in the U15 category, so the tournament was over in the blink of an eye. We did a preliminary round, everyone fighting everyone, then a second round and then the direct elimination. (See my results
here
) Being able to show what you've learnt under real tournament conditions, was the perfect conclusion to the trip. On Sunday evening, we headed home to Germany...with a very heavy suitcase (shopping in London!) and lots of great memories. [caption id="attachment_1230" align="aligncenter" width="300"]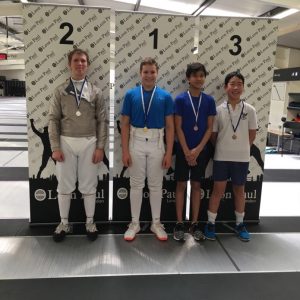 The podium of the final tournament[/caption] My resume: As an U14 fencer, you tend to have little international experience. The camp in London increased my knowledge of international fencing schools. You get to know other fencing styles and you learn to adjust to them. If you are lucky, you will make international friends that you'll meet again at CC tournaments! And: The tactics tips from coach Soji were perfect, as proofed by my last tournament results in Germany as well ;) !
Practical advice
Would you like to attend one of the
Leon Paul summer camps
? Here you can find details on these!
Signing up for the camp:
Registering is easy on the English
Leon Paul page
. The cost for the course is 420 pounds, currently about 470 €. It includes lunch and drinks.
Where to stay:
We stayed at the Brent Cross Holiday Inn. As a camp participant, you will get a special discount. You will find the link on the LP website, under the camp program. The district of Brent has a good infrastructure; there's also a shopping mall near the hotel, about a 5 minutes walk. Even closer to the fencing centre (about 900m), there is also a Premier Inn hotel (which offers special discounts for camp participants as well).
Public Transport
The location of the Leon Paul Fencing Center is great to discover London; it takes about 20 minutes on the Underground to get to the city. From time to time we also drove into the city with the double-decker buses, which was very fun (and "very London"). The easiest way to get a ticket for public transport is buying an Oyster Card, available at some stations, which can be used both for bus and underground transportation.
Who is the LP Camp for?
In my opinion, U14 fencers and younger are perfect. Even beginners can join - but they should have already fought a few tournaments. (Please note: At this age, you might need support from your parent for travel and organization; so it's best if a parent comes with you. The ideal scenario, however, is to attend the camp together with a fencer's friend who shares your ambition. If he's bringing a parent as well, you can even think about renting an apartment – that way, the parents can enjoy London together (and do all the museum and sightseeing stuff adults do) while you're training. Talk about a win-win ;) ).
Important advice for non-UK fencers:
Please check the specific equipment requirements for your age before heading to London. As national federations set their own rules regarding blade size, safety level etc., the rules for the Leon Paul Junior series tournaments might be different to the ones you know from your home country. For instance, in Germany I've been fencing with a regular sabre (size 5, that is) since entering the U13 category, while in Britain I would have had to use a shorter blade at that age. If you have any questions about my experience at the Leon Paul Sabre Camp, please feel free to get in touch with me in the comments!
Photo credits:
http://www.nikibruckner.com/fencingphotos/; Max Teichner, private