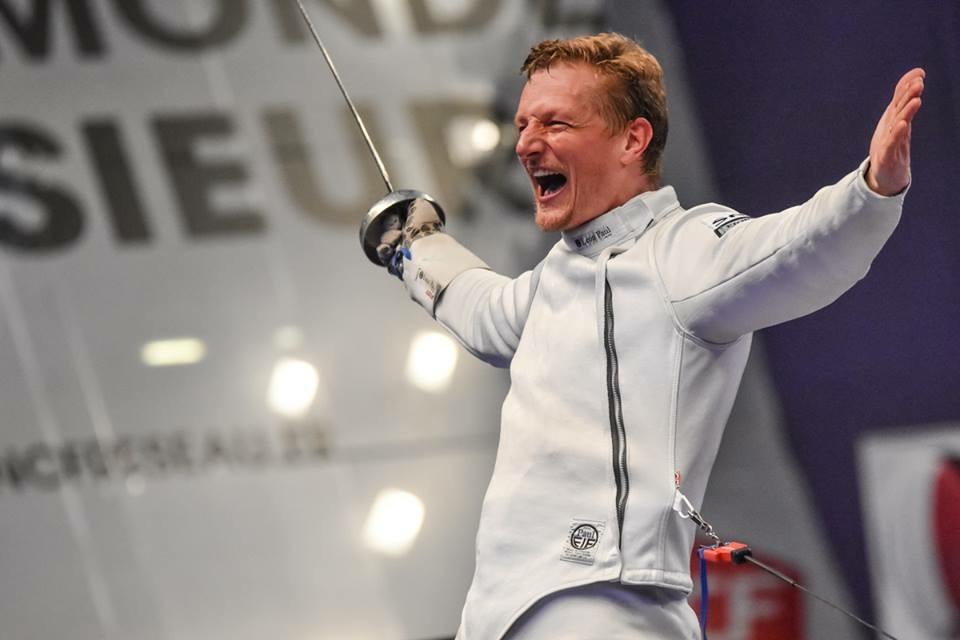 Every fencer has it: a personal collection of special moments. A day you'll remember. A match ended with a close win. A competition that leaves not just medals, but memories.
For Leon Paul sponsored fencer Bas Verwijlen the 2018 edition of Challenge SNCF Réseau in Paris, one of the most important events of the worldcup series in Men's epee, does definitely belong to that category of unforgettable experiences. Read on for his full report about his day and how he made it to the podium. 
In the last years I've learned to set realistic goals towards every competition. My last competition at the Grand Prix in Budapest I reached my goal by making the top-16 and I was very very close to make the top-8, I lost in overtime. I felt good in Budapest, but I also felt that there was a lot of physical work to do, especially legwork.
So before the world cup of Paris, (that I still call the Monal) I focused on extra physical training and attended a very tough but nice training camp in Basel, Switzerland, organized by Maitre Hugo Dergal of Fechtgesellschaft Basel.
Because I am not (yet) in the top-16 of the world ranking I had to fence the poules to qualify for the next day. There is no harder competition to fence the poules than in Paris. The whole world is represented here, so you have to be super focused and making mistakes is deadly. In my career I developed 'a way' to be able to focus and win all my matches or anyway perform good enough to qualify directly for the next day. Coaches and other fencers ask me how I am able to do this time and time again, this still remains my secret :)
I was not satisfied at all with my performance in the poule, but I managed to win all my matches and qualify directly for the 64! I still think it is crazy to see how many top fencers do not make the top-64 because they lose maybe one match in the poule and they have an unlucky draw in the pre-leminations….but hey, that's also the charm of our beautiful sport!
I started my poule early and finished on time, so I went back to the hotel where my wife and daughter were waiting for me. What is also an advantage of winning all the matches in the poule is that you have a longer time to recover. (eat and sleep)
In the evening I learned that my first opponent was Benjamin Steffen from Switzerland. The number 4 of the last Olympics, well respected fencer and popular by the female fans. (I have no idea why…..just kidding Beni.)
I won my tough match against Beni, then I beat the Russian fencer Bida in overtime.
To get into the top 8 I had to beat the French fencer Daniel Jerent in overtime. Jerent was the last French fencer in the competition and the thousands of French fans were clearly not cheering for me and when I made the winning touch, it was very quiet. I apologise to the French fans to beat their last fencer, but that's sport. So I qualified for the top-8!
[caption id="attachment_1196" align="aligncenter" width="300"]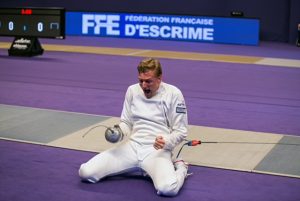 That's what happiness looks like after winning in overtime!
Photo: Ferraro/Bizzi/FIE[/caption]
In the quarter final I beat the Hungarian Daniel Berta. Berta had a very good weekend by finishing individual in the top-8 and winning the team event.
Semi-final! In the semi-final my opponent was Nikolai Novosjolov from Estonia. In front of live French tv and a sold out stade Pierre the Coubertin with over 4000 spectators it was a joy to fence against one of the best epee fencers at the moment.
[caption id="attachment_1200" align="aligncenter" width="300"]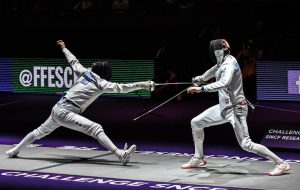 Semifinal against Nikolai Novosjolov
(Photo: Ferraro/Bizzi/FIE)[/caption]
I must admit I am a fan of his fencing style and personality. I had beaten him a few times and he had beaten me a few times. For the 2016 Rio Olympics he qualified just behind me as the second individual fencer from the European continent. But at this moment he is in a better shape than me :) I was behind the whole match but at the end I came back to a 12-13 score in favor of Nikolai with only 5 seconds to go. I started my attack from too far away and he scored. 12-14. Then I had to run and got a double. I lost 15-13. I am a sportsman that always wants more, but at this moment I have to be very satisfied with this result.
[caption id="attachment_1197" align="aligncenter" width="300"]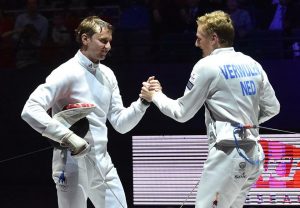 Congratulations to Nikolai Novosjolov
(Photo: Ferraro/Bizzi/FIE)[/caption]
I made a podium at the monal for the first time in 2007 and now, to do it again in 2018, it feels great and gives a lot of confidence towards the next Olympic cycle. It will be very hard to qualify for the European continent because the competition is crazy, especially in epee. But I did it in 2008, in 2012 and 2016, so let's do it for the 4th time! I congratulate Novosjolov for his victory in Paris, a very nice winner for a beautiful competition.
[caption id="attachment_1199" align="aligncenter" width="300"]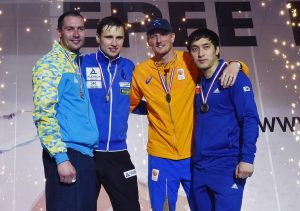 Challenge SNCF Réseau 2018: the 2018 podium
Photo: Ferraro/Bizzi/FIE[/caption]
Now I climbed a bit again on the FIE worldranking from 25 to 19, getting closer to the top-16 again to be free from the poules!
I want to thank all the people that supported me and a special thanks to my sponsors. My sponsors make it possible for me to train and to compete as I still receive no support from my fencing federation or my National Olympic federation. I am extra proud because I know almost all my opponents are professional fencers paid by their federations. Unfortunately this is not common in my country so I am forced to have normal day job and I plan my trainings and competitions around my work.
[caption id="attachment_1195" align="aligncenter" width="300"]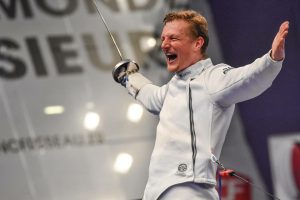 What a competition – thank you!
(Photo: Ferraro/Bizzi/FIE)[/caption]
My next competition will be the European Championships in Novi Sad, Serbia.
Thank you for reading and see you later!
Bas Verwijlen
www.basverwijlen.com
Instagram: @basverwijlen
Facebook : Bas Verwijlen