This blog post has been written by Peter Barrett head coach of Plymouth fencing club after they went fully wireless in April 2017 with 14 sets of wireless fencing equipment replacing 15 ancient scoring sets.
15 Fencing 'Boxes'
30 Ground Leads
30 Spools (if they are all working)
6 Mains extension leads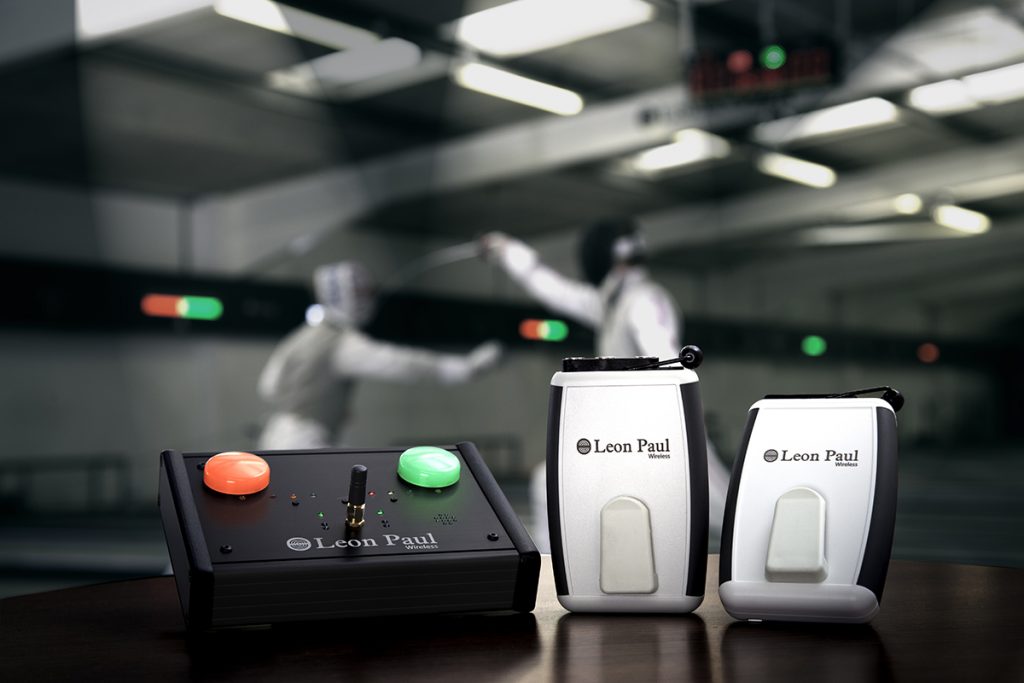 That's a lot of equipment to set up and put away 3 times a week.
In addition to all the agro of pushing fencers to 'get the boxes out' comes the average repair cost of around £2,000 per year in keeping it all in working order.
So when I first saw the early prototypes of the Leon Paul wireless system being tested and developed I knew that it was the way ahead for Plymouth Fencing Club and as soon as it was announced that the units were going on sale we took the plunge and purchased 8 systems and followed up by ordering 4 more making us the first all wireless club in the world.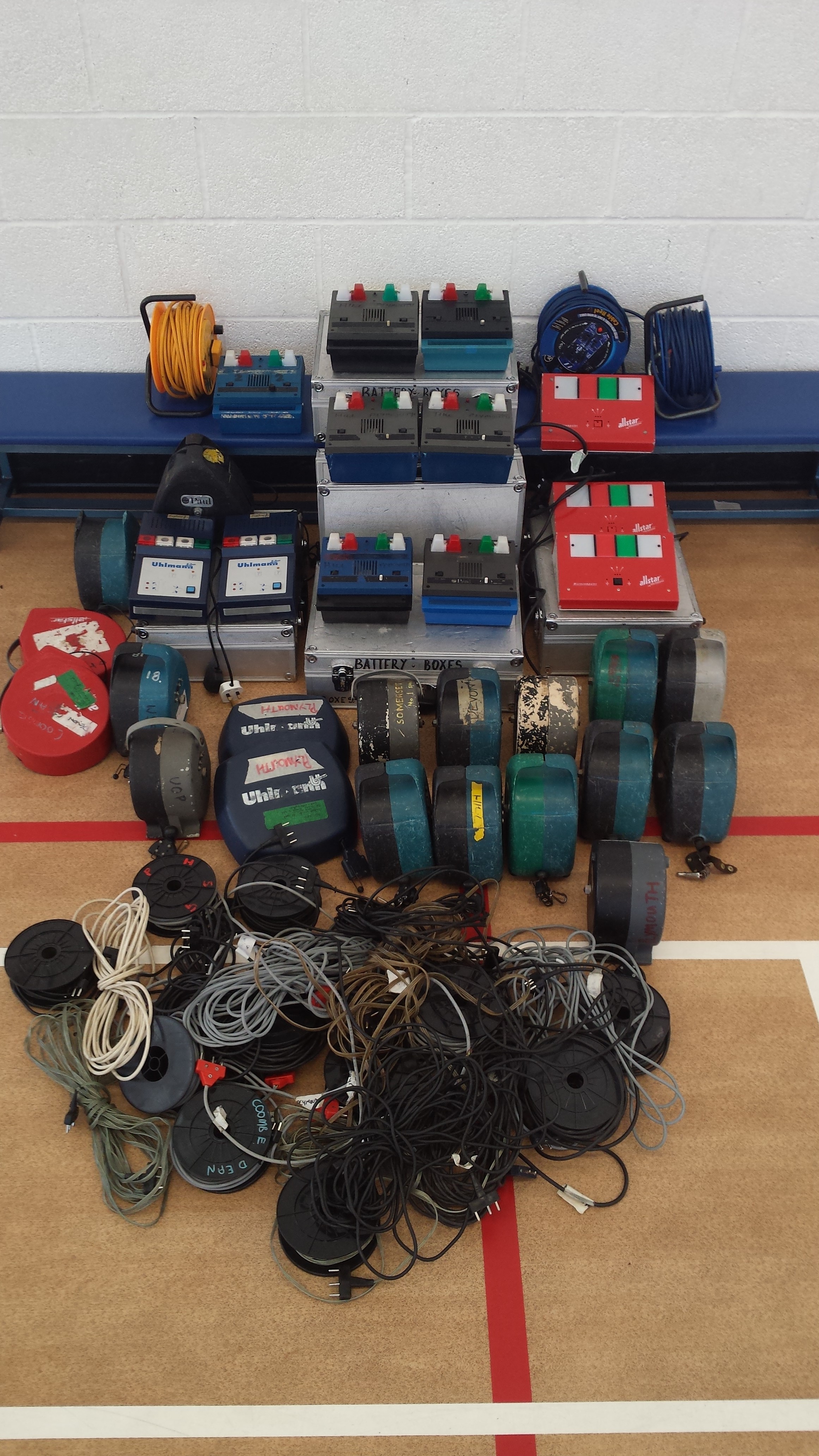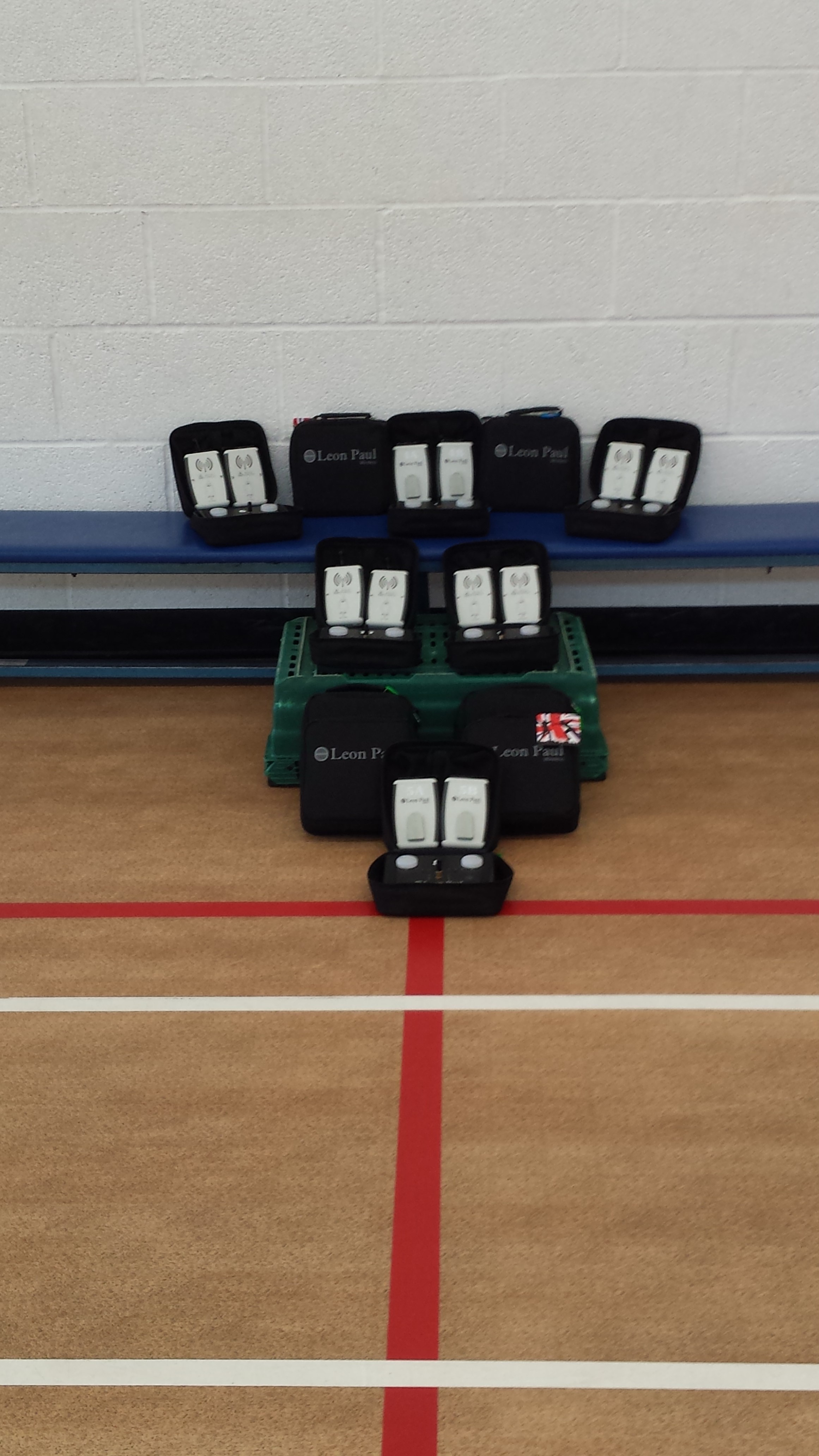 The above image shows the equipment needed before and after the change.
The difference is quite amazing.
The 'before' picture is actually short of 8 spools and four boxes as the spools were being repaired and the boxes were having the batteries charged so the pile would be even bigger. But you get the idea of the mammoth task we had three nights a week.
If we went for a 12 to 15 piste setup (assuming that everything was working of course), then it would take maybe 20 minutes if everyone chipped in and helped but longer if some of them hid in the changing rooms to avoid the hassle. What would happen is some would simply bring out the metal cases (which contained 2 boxes), a bunch of ground leads and a couple of spools and simply leave them for someone else to set up.
They would then discover that they had forgotten to run the mains extension cables and nothing would work (obviously).
So from the start of 'setting up' to the start of actually fencing could be about 30 minutes but if we really pushed them and made sure they set it up correctly we could knock 10 minutes off that time.
In terms of storage, all the boxes were kept in metal cases (of which we had nine of) with two boxes per case. These were kept in a large metal cabinet. The spools were kept in four large trays and the ground leads in a large crate.
So in the process of upgrading to the wireless system, we have reduced the setup time down to 5 minutes maximum and reduced the storage down to all 12 wireless units into one 'bread crate' carrying tray which one person can carry out into the fencing hall.
It has given us less hassle, less expense in maintenance, freed up more space, reduced setup and clear up times and enabled us to get more fencing time.
There's no going back now. Wireless for us is here to stay.
So how has the wireless system gone down with the fencers?
Initially, some found it strange not to feel the pull of the spool but they soon settled into the new sense of freedom.
The most notable difference was the 'lack of direction' that comes with the ground leads and spools. The fencers initially drifted as their senses no longer had the guiding effect from all the cables on the floor. Also, fencers that were not fencing would dangerously walk across the back of two fencers that were fighting totally unaware of the risks, whereas before they would have to walk around the spools behind fencers.
A quick re-education was needed to remind everyone of the need to be self-aware. However, it only took a couple of weeks to re-educate everyone and all is fine now.
Initial Problems:
As with any introduction of something new comes a new learning curve.
The setup and programming of each fencer is soon learnt but still we have to remind fencers that the unit must be in the back pocket or clipped to the breeches 'before' programming and not to hold the transmitter in the hand as they programme the units. Intermittent registration of hits on the epee guard are normally down to sloppy calibration and after a quick re-calibration are instantly resolved.
This has been a brave and bold decision by the club to go wireless but we are so confident that this is the way forward that we have already decided that the Plymouth round of the Leon Paul Junior Series in October will be run totally wireless, the first competition in the UK to do so.
This is the best thing to happen to fencing for ages and come the day when Leon Paul develop a full FIE, wireless system with remote control, timer and scores, you can guarantee that Plymouth Fencing Club will be in the que for new equipment.
I would like to personally thank Alex and Ben Paul and all the staff at Leon Paul for their help and support. It has been encouraging to be working with such a professional team. Thank you.
Peter Barrett
Head Coach, Plymouth Fencing Club.
And from one of the parents….
Easy to set up and put away.  More time to fence and not a chore.
No issues with accuracy all hits register and no noticeable unregistered hits (as long as calibration is reset with reboot when changing fencers).
Freedom of movement is great.
Hold charge well for 3 nights a week fencing.
Definite improvement on spool and wire. Would not have any problem using in full competition.  Less connections less to go wrong.
One of the most significant developments in fencing for decades.  As long as you don't step on them or fencers walk off with them.
Thanks
Simon Andrews
Comments from our fencers:
'I love using it, great technology'
'the technology is a doddle to use achieving all the technical complexities of WiFi pairing in a simple and intuitively intelligible way'
'wireless is accessible to the wide range of ages at the club'
'a revolutionary system and a pleasure to use'
'it is magical, gives you freedom in your fencing'
'very quiet, smooth, easy to operate'
'the clubs' significant investment in this technology shows great foresight'
'what is the future of wireless - will there be score upload, light towers, remote control?'
'The wireless has injected a new energy into the club and increased fencing time, no longer is the reluctance to clear up spools and boxes at the end of the evening. There is no looking back'!
Links:
http://www.plymouthfencingclub.com/
https://www.facebook.com/DutchySallons/videos/pcb.10211280635719123/10211280634559094/?type=3&theater