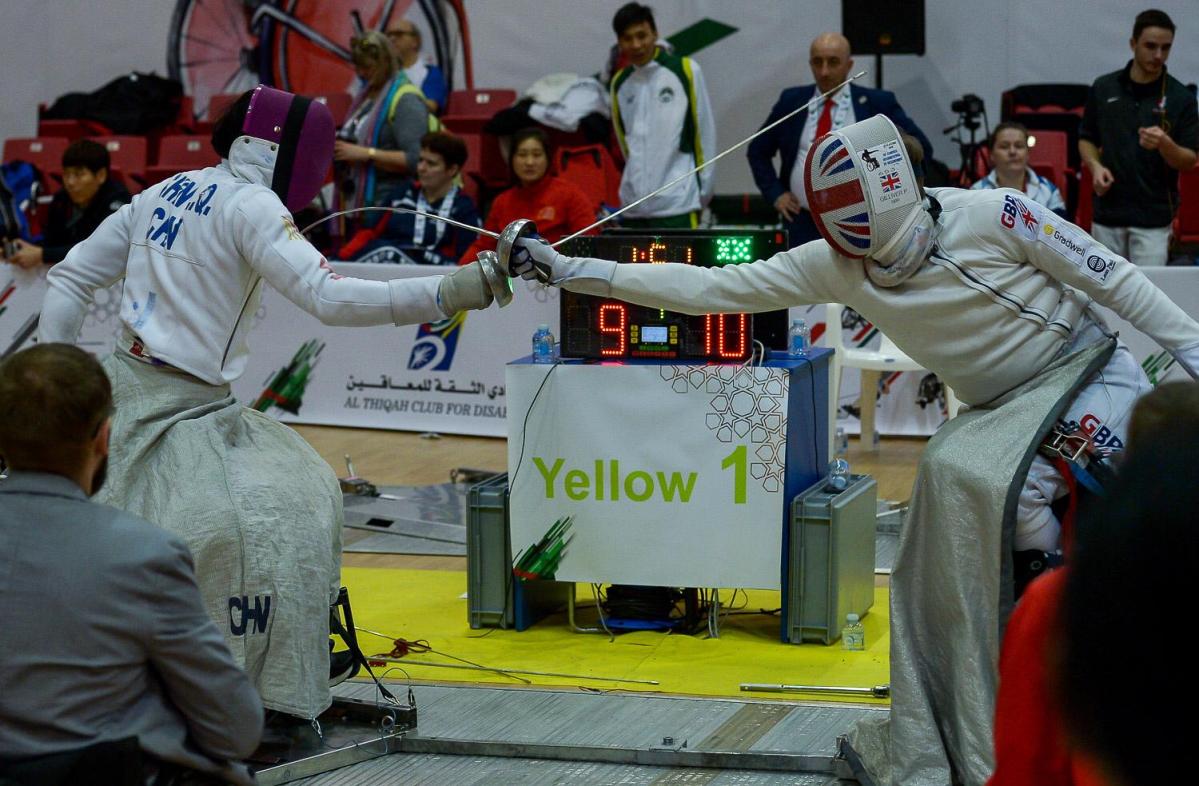 In September 2018, the Tokyo 2020 Paralympic Games qualifying period for wheelchair fencing started and will run through until May 2020. For me, my qualifying period could not have got off to a better start, winning both the World Cup Epee events in Tbilisi, Georgia & Kyoto, Japan and so I was delighted to be able to carry my form through into the new season and secure my third Epee Gold of the qualifiers by taking the win in Sharjah, U.A.E!
We travelled to Sharjah a few days ahead of the competition start which ran from the 10th-14th February, so that I had some time to adjust to the time difference and climate and it certainly paid off, I felt well prepared to compete in what was, the strongest of company.
The Sharjah World Cup was held alongside the IWAS World Games and the hosts and organisers had done a great job – it was a super event!  The wheelchair fencing circuit is usually held at stand-alone venues, hosting only the World Cups, which is good, as it is very focused but it was also a great experience to feel part of a multi-sport games, with all of its athletes, atmosphere and buzz!
My competition began on the 12th with Cat A Epee and got off to a good start in the Poules, winning al matches then in l64 I had a Bye to the next round, the L32 where I met Betti (Italy)& defeated him V15 – 6D. This saw me through to the L16 where I defeated Nalewajek of Poland V15 – 10D.  My L8 draw saw me face the first of the Chinese fencers for the day, Chen, who i beat V15 – 11D, this was a tough match as i've not fenced him before and he has a huge amount of speed and power. this took me through to the L4-Semi Final!  Here I was to face the fast-Iraqi fencer Al-Madhkhoori, where I was pleased to take the match comfortably with a V15 – 6D win. Now to the Finals piste and it was set to be a Rio2016 rematch as I was to face the fast & technical Sun Gang form China, however, this time the win was mine and I was thrilled to take the match V15 10D!
It felt really good to revisit that scenario and to feel that I was on-form, winning and still with room to improve and this is all possible because I have my coach Peter Rome and a great support team around me.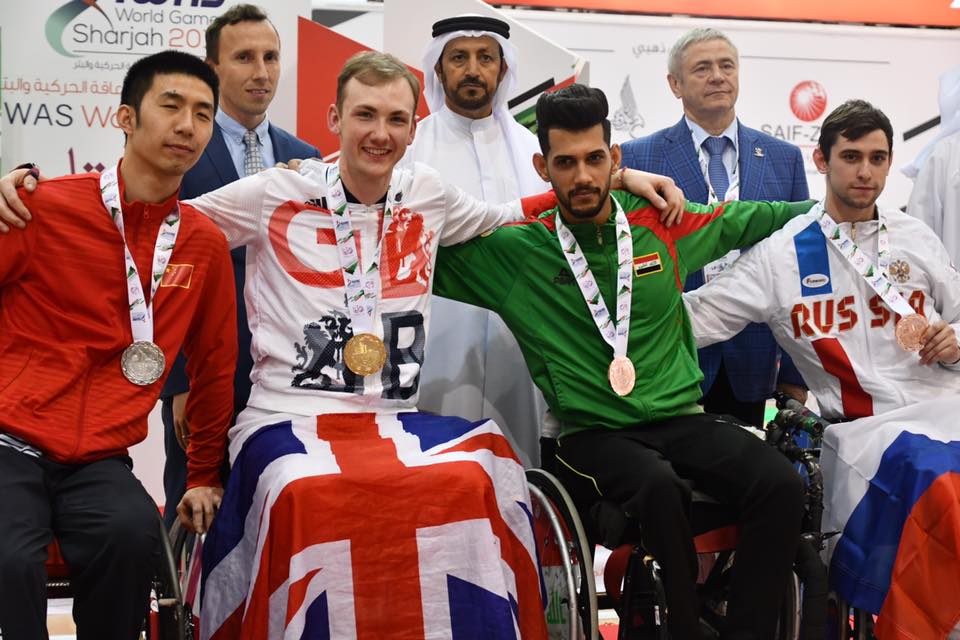 However, there was no time to relax as the next day I was competing in the Cat A Sabre event and I couldn't have been happier with my results, given that this weapon is relatively new to me. I had an OK Poule – V4 D1 which saw me seeded No7. A straightforward L32 gave me a V15-3D victory over Dabrowski (Poland) & in the L16 I beat the Italian Pellegrini V15 – 6D. Now through to the L8 and I was able to beat the Frenchman Al-Assine V15-10D, which took me through to the L4-Semi finals where I drew Giordan, the strong Italian Sabreur who has been seen on many podiums during 2018 and so I was pleased to take the win V15 – 10D. This enabled me to take to the Final's piste for the second time in as many days! Unfortunately though, it was not to be for me and unable to get the measure of my opponent on this occasion, I lost the match D6 – V15 to Ntounis (Greece) but once over the initial obvious disappointment, I was really pleased with my performance and how I fenced and proud to take the Silver Medal!
Overall, it has been a fantastic start to the 2019 Season and the Tokyo 2020 Qualifying events, winning gold in all 3 so far. I am excited to continue working hard on making the dream of qualifying for the Tokyo 2020 Paralympic Games and taking that Gold medal a reality!
My next event will be the IWAS World Cup in Pisa, Italy, which runs from 21st – 24th March!
Piers Gilliver
(Photos by Yuka Fujita and Fahad Al Bastaki)