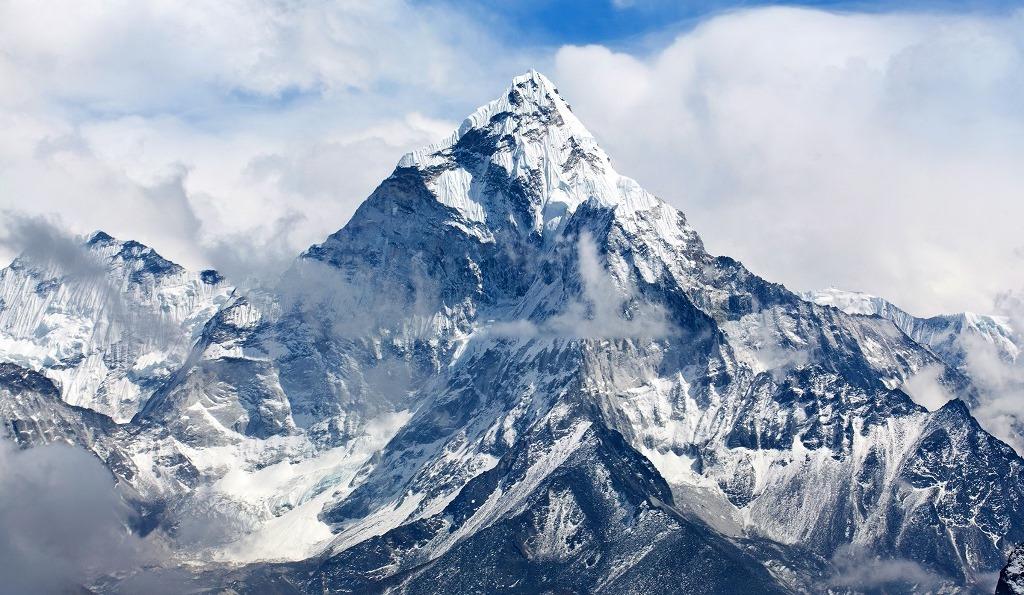 In March 1923, George Mallory was asked by the New York Times "Why did you climb Mt. Everest?" to which he replied "Because it's there". Probably the most famous three words in mountaineering. It was fitting that the first time 'Everesting' was described in relation to a cycling event was by Mallory's grandson, also called George. The younger Mallory ascended mt. Donna Buang in 1994, having ridden eight laps of the 1,069 metre hill.
Inspired by story of Mallory's efforts, the format and rules of Everesting were cemented by Andy van Bergen who organised the first official Everesting group ride. Of the 65 riders started, only 40 finished. The concept of Everesting is fiendishly simple: Pick any hill, anywhere in the world and ride repeats of it in a single activity until you climb 8848m, the height of mt. Everest. You can get off the bike for breaks but the clock keeps running. It must be done as a single ride, simply put, there is no time limit and no sleeping allowed!
COVID19 has changed our world. On the 23rd March The UK Prime Minister announced that the UK would go into lockdown and people could only leave their homes for essential reasons and to exercise once a day. I was already running daily, my blog post from the 18th April details how my plans to run the London Marathon had to be on hold. It also mentioned briefly that I had discovered the virtual world of Zwift cycling. Still having the bike Sir Chris Hoy had given to me from my B&Q days back in 2007, I hooked it up to smart turbo trainer and along with some of my running club mates, started a regime of daily running and cycling.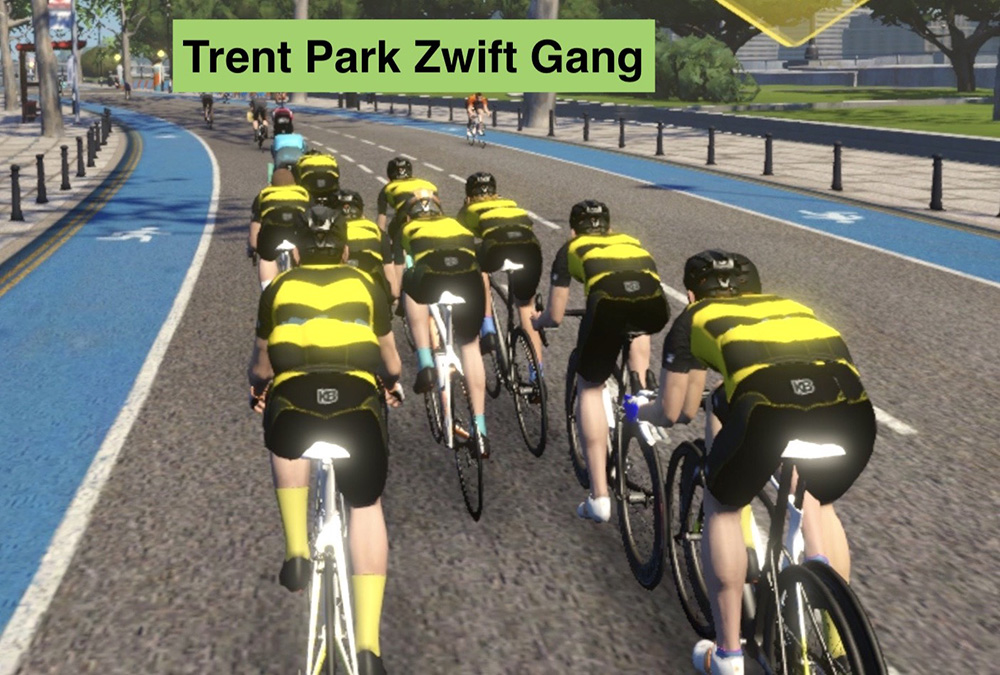 With furlough and working from home giving us more flexibility time wise we all became semi-serious about our 'Zwifting'. We started with easy group rides before moving onto some fun races and then regularly entering Team Time Trials. Before I knew it, I had covered 3,642 virtual km's and had a total ride time over 120 hours. My wife, who knew I was slight crazy before she agreed to marry me, keeps remind me that 'it isn't real' (but she hasn't seen the dinosaurs who live in Titan's Grove in North East Watopia).
As Leon Paul planned to reopen the Fencing Centre in July and I was going to have to return to full time work very soon. I wanted to mark the end of my 4 months of training like a full-time athlete again with a big challenge. Kam Ezel, a cyclist from my club, and I egged each other on to try a virtual Everest and with that, the plans were laid. Before the date of my attempt only 6,964 people had officially completed an Everest with 5,432 in the real world and 1,532 virtually. The world record is held by the former Tour de France Champion Alberto Contador, in a time of 7 hours 27 minutes and 20 seconds. Confident in the fact that the record would still be standing at the end of the day I started up my first of eight and a half climbs of the Alpe de Zwift mountain at just before 6 am on Saturday morning.
Knowing a little about nutrition in sport and having done my research I had lots of food, energy drinks, electrolytes and jelly babies to hand to get me through the day. I also had a large whiteboard on the wall next to me to keep a record of my progress and as a motivational tool, seeing the climbs being ticked off was a big help during the tougher physiological moments.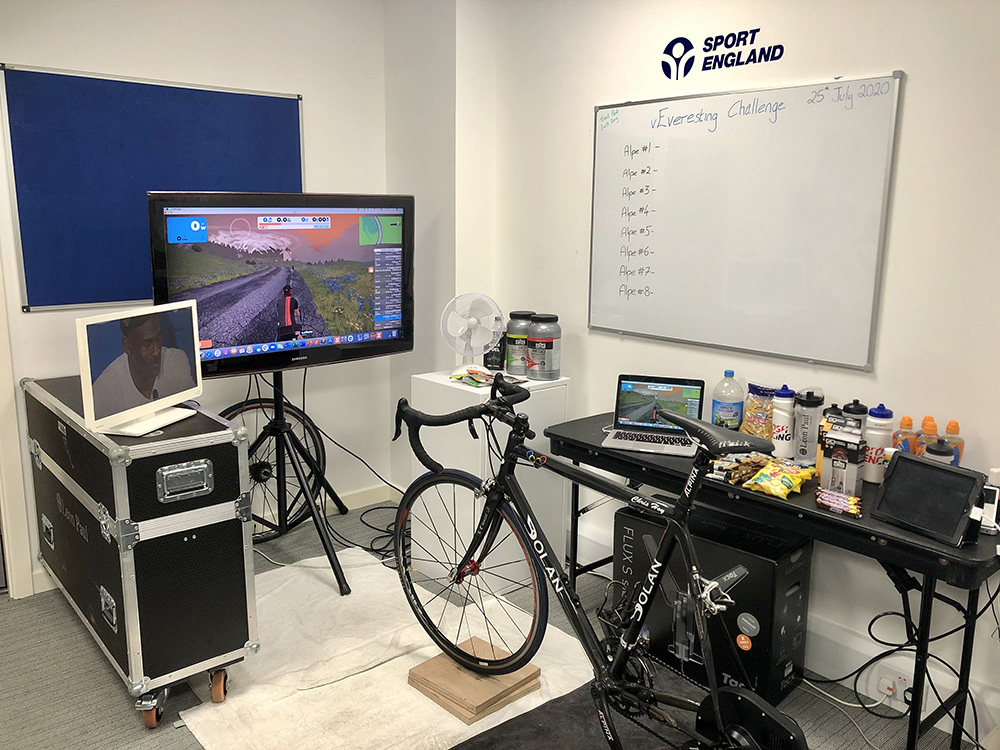 The first 3 hours went really well, I had done a few test rides over previous weeks so I knew what gearing to use to give me the optimal cadence for the most efficient production of 240-250 Watts. This power output at 79.2kg (my weight at the start of the day) would give me 3.0-3.1 Watts per kilo and a climb time of around 64 minutes. That's a good 10 minutes slower that my personal best for this particular climb but my mother once told me a story called 'The Tortoise and The Hare' so I knew that slow and steady would win the race.
After 9am, the time when sensible people were getting out of bed on a Saturday, members of my cycling team would dial into our team discord channel to chat with some of them even logging into Zwift and riding a couple of climbs with me to help with pacing up the mountain. It is very easy to lose concentration as you get tired and reduce your power without realising. Having someone tap out a tempo in front of you is a massive benefit even if there is negligible drafting effect up a 10% gradient.

After each ascent of the mountain it takes 10 minutes to descend back down. This is when I did most of my eating. The human body can digest about 60g of carbohydrate per hour, so overeating can be as much as a problem as under eating. The food choice of the day was portions of 50g of pasta covered in tomato ketchup, the staple diet of any toddler! That mixed with constant snacking when riding kept me going without too much issue for the first 6-7 hours.
Seven hours in and towards the end of climb six was a dark place for me. I'm not sure why then but I had my first doubts about the whole thing. I turned off the team discord chat and chose to suffer on my own for a while. I tried to eat my pasta on descent six, but threw up my first mouthful so consuming solid food was no longer possible. To compensate I increased my liquid carbohydrate intake which seemed to work. I pulled myself together again and climbs 7 & 8 were easier, I even managed to get down my fourth snickers bar of the day before the start of my final half climb.

With most of my teammates back shouting encouragement on the discord channel, Kam and I finished together in 11 hours, 6 mins and 2 seconds and joined a club with fewer than 7,000 members. We decided to carry on to 9,000m to round it up and make sure the attempt would be officially recognised. There would be nothing worse than having put ourselves through this and submitted the Strava file to the officials for them to come back and say we'd only done 8847m!!!!
This was the second hardest thing I have done in my life, the hardest being my first marathon when I didn't really know what I was doing regarding endurance training. Both physically and mentally this ride was very tough. I don't think quitting ever really crossed my mind, but I did suffer between hours 7 and 8. Having other people with me and their encouragement not only made it easier, it almost made it fun.
Hopefully life will start to return to normal now so my chances to do something like this again will diminish. On a recovery walk around the Brent reservoir the following day, my wife did ask me "when are you going to start training for an ironman?" That is certainly not on the cards, but I am going to run the London Marathon next year and also try real-world cycling. With that in mind and using a concept design by Rose & Nick Grimshaw, Leon Paul and Raceskin are producing a one-off cycling kit for the next chapter of my cycling adventures.