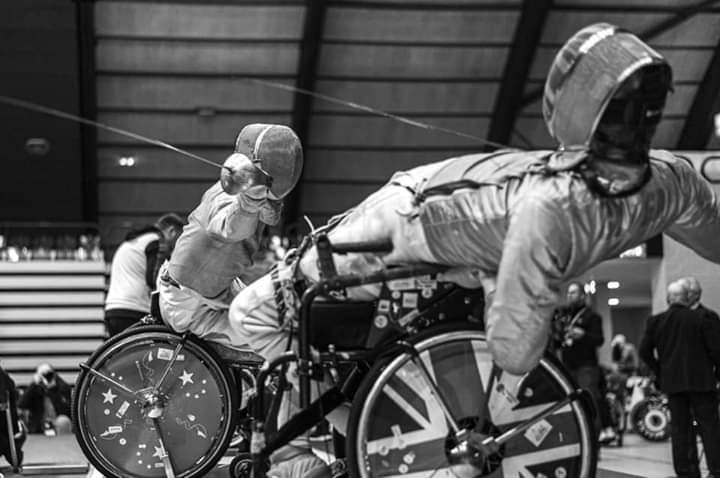 When I started this new Paralympic cycle to Tokyo, I never would have guessed that 2020 would pan out the way that it has and that it would have gone down in history as being the first Games to be postponed, with the only other interruptions being the first and second world wars.
Prior to this my training and competition performance has been going very well. In 2017 I started Sabre as a second weapon and it is a decision that I couldn't have been happier with!  Despite the dramatic changes in style, I felt I was able to take to it well and use a lot of my transferable skills from the other weapons.
The qualifying period for the Games started in November 2018 in I managed to get off to a flying start, taking three back-to-back Golds in Epee with my final tally for qualification being 8x Gold 2x Silver 7x Bronze, putting me in World No1 position in both Epee and Sabre.
For me the 2019 World Championships in Korea was a one of the top moments of my career so far.  I had narrowly missed out on previous World Championship titles, so it meant the world to finally be able to take home this title, along with a first medal for our epee team event, so I was thrilled with my season!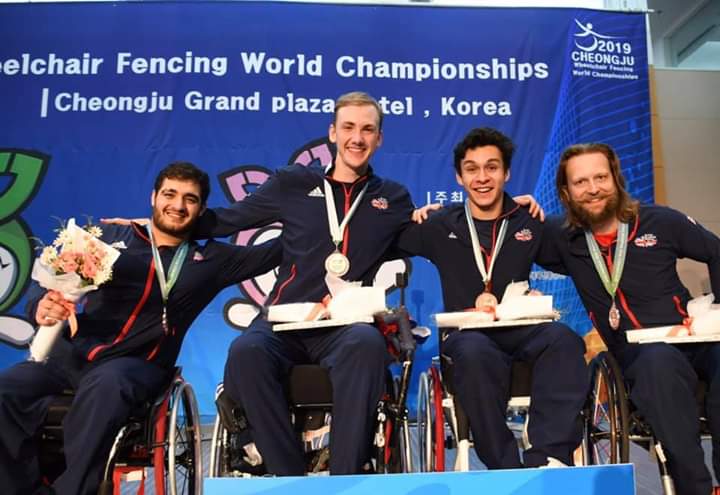 We then went into 2020 and it was definitely going to be a year to remember! We started the year with a World Cup in Hungary and by this point, things had already started to change. The virus was spreading and was beginning to affect some of the international athletes and the competition. Some nations were unable to attend and there was uncertainty how fast the situation would change while we were out competing.
It was not long before things started to change for us too, by March the situation was changing on a daily basis and the concerns began about how it was going to be possible to keep training. It wasn't long before national lockdown was announced, and all training had to be cancelled.
This was the most difficult time for me, I'm sure it was for all athletes. I had no idea how I was going to be able to continue to train effectively for the competition that I'd been training so long for, how I could make my preparation as optimal as possible without being able to access any fencing!
At first it seemed unthinkable that the games could be delayed but day by day It seemed more and more likely. Eventually the news came that it was to be delayed by a year. Despite the initial disappointment, I was soon glad of the news and it relieved some of the pressures. It meant that I had a rare chance for more time to train and try to improve, a chance to get the optimal preparation that I was looking for.
There were many challenges for all of us in lockdown but I felt I was able to use it to my advantage as much as possible. I focused mostly on physical training, it was something I could do without relying on a sparring partner and I feel because of this, I came out of lockdown the fittest I have ever been.
Luckily it wasn't long before we were able to resume fencing training as a team, due to a government dispensation for athletes in elite sport. The environment was certainly different to pre-lockdown with many changes and strict protocols but I was hugely grateful for the opportunity to return to training.
Looking ahead to Tokyo I'm feeling confident and excited for the chance to compete. Not only has this cycle been an improvement for me but also my fellow teammates and our training too. Our programme is based at the University of Bath, managed by EIS and my coach Peter Rome and in the last few years things have been improving well, getting more professional each day and we've been lucky to receive a funding boost from UK sport through to Paris, allowing us to access better support and allowing more athletes to join the program, so its an exciting time for the sport in GB!
So, the immediate future for me is focussing on my daily training and all the small steps that it takes to improve, with my eyes firmly set on Tokyo Epee Gold but also striving for medals in Sabre and the team event too.
Unfortunately, most of our competitions this year have been cancelled. We recently received news that Tokyo qualifiers were to be ended, being cut short by two events with the points frozen, however the European championships in Hungary are currently still on the calendar to look forward to and to focus on, which will be a great opportunity to compete at and prepare for the Tokyo Games.
I hope to update you soon on my Tokyo journey!
Piers Gilliver
(Photos by Augusto Bizzi and Eich Michler)