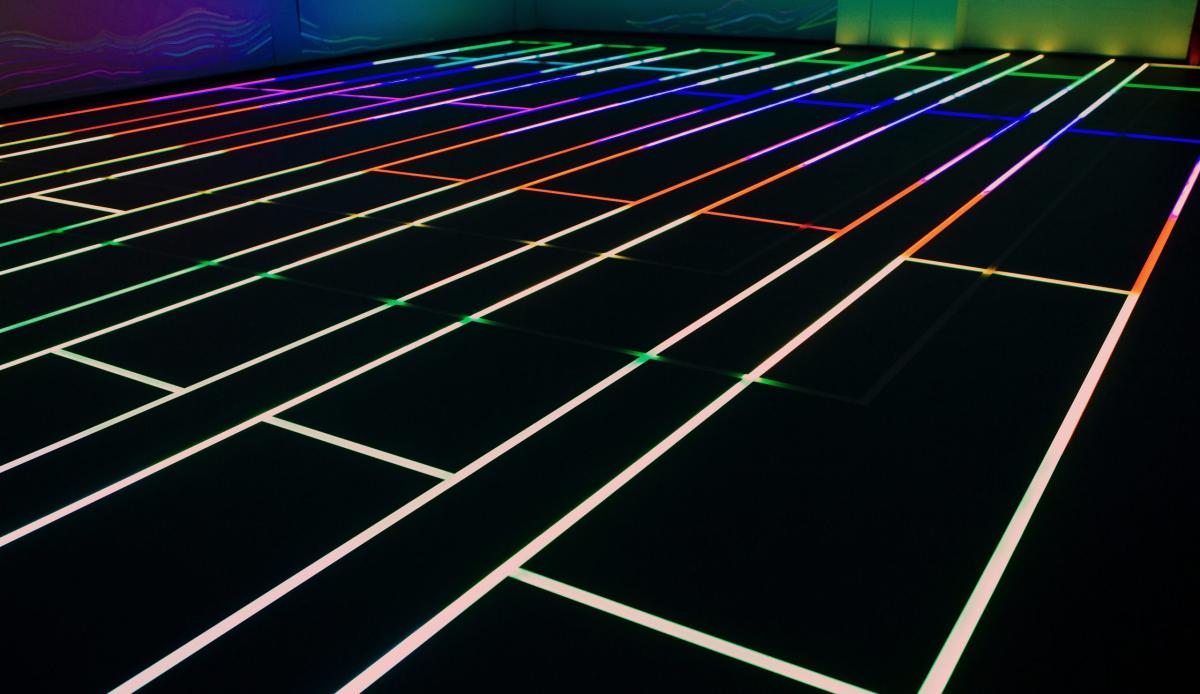 Paul Davis has for many years been one of the most progressive fencing coaches in the country. His youth program the Paul Davis Fencing academy has created thousands of young fencers since it was founded.
Seeking a permanent home Paul has worked tirelessly to get the funding together to build the Hertfordshire Combat Centre in St Albans. He knew he wanted to make it special and so came to us last year looking for ways to make it a truly spectacular venue. The salle had to be a multi sports venue so he took inspiration from both our own light up pistes here at the Leon Paul Fencing centre and also the work that we have done on making fully glass pistes a possibility for the future.
Paul was already a big fan of our wireless fencing system so he knew he wanted the club to be all wireless but to make it really special and also suitable for a range of combat sports he wanted the flexibility to be able to change the layout of the floor. Paul teamed up with Lumen Art from the Netherlands to produce a fully sprung loaded sports floor that lights up with both the outline of the combat space and also shows the hit indications.
Here's what Paul had to say about his new centre:
Your vision
We are entering a new era for club Fencing. We had a unique opportunity to bring to life our dream of a purpose built venue in the heart of St Albans. We knew the Centre had to be designed in a way that future proofed our organisation and was progressive for our Sport. We have been inspired by Leon Paul. As a brand they know how to combine style with functionality. I have always enjoyed my conversations with Alex Paul, the chance to bounce creative ideas of each other and the ability to take ideas from the drawing board to reality.
Sword fighting has come a long way in a short amount of time and the free thinkers in our sport have helped shorten the journey Fencing has taken to be one of the most technically advanced of all the Olympic Sports.
What the floor adds
The floor ignites theatre whilst providing a meaningful and multifunctional arena. We have been able to create a multiuse venue that provides the wow factor during whatever the use might be; Fencing, Kickboxing, Karate, Jui-Jitsu.. Not only does the floor design look great, it increases the efficiency and effectiveness of how we interact, through the potential for data analysis, fitness activities, games and scoring. Connecting the wireless boxes to the floor has meant we can do away with our traditional wired boxes and increase the safety and usefulness of the whole arena. We cant wait to upgrade our wireless boxes to the LP series 2 this year. We look forward to our venture being replicated else where in the world so more of the Fencing community can benefit from this technological development.
The benefits of wireless
Wireless Fencing provides unparalleled freedom and opportunities to maximise the Combat Centre. Wireless Fencing is here to stay and we would have missed a trick had we not factored wireless scoring into our project plans.
How you found lumen art and what they were like to work with
LumenArt were fantastic. Highly experienced in their field, they were able to take our aspirational ideas and transform them into reality with the ability to be able to continually programme remotely which continues to futureproof the product.
Who created the sports floor
The Sports Floor is a wooden sprung floor with the perfect amount of grip. Reflex Sport Ltd. Led by Richard Darby who really knew his stuff and was able to assist in the design ideas. Had some experience in Fencing having supplied painted piste lines at a School in Canterbury.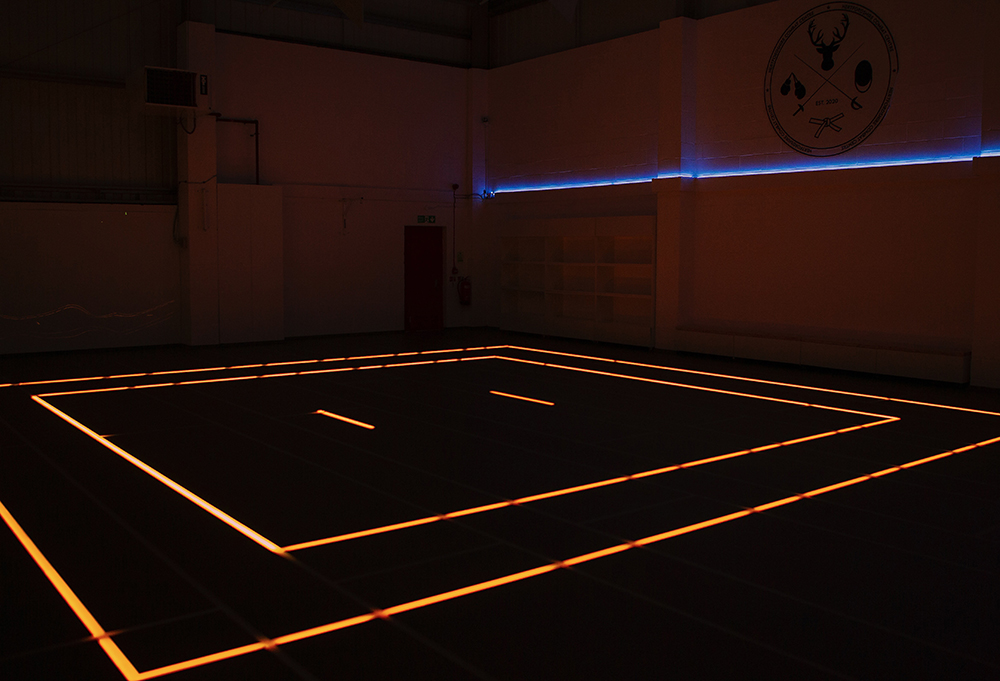 Pictures - Ian Bosic | splashpicturespro.com