Size Information
Please note that the mask will shrink by 5% and soften after the first wash. We recommend a hot wash before its first use.
*Face sizes and shapes vary enormously
Size M/L - 22cm wide 10cm high with 15cm long ear loops.
This will fit most fencers that use a Large or X Large fencing mask.
Size S/M - 21cm wide 9.5cm high with 14cm long ear loops.
This will fit most fencers who use a Small or Medium fencing mask.
If you are not a fencer, you can use our chart to determine your fencing mask size.
---
More Information
As the Covid-19 crisis continues to turn all our lives upside down, there are a few things that we can all do to help. Following national guidelines on lockdown, social distancing and handwashing is key to fighting the spread of the infection. The next most important thing that you can do to help stop the infection from spreading is wearing a face mask when out in public.
As a company we realised early on that we are not set up to make the kind of disposable personal protective equipment (PPE) used by front line medical staff. What we have been able to make is a basic reusable cotton face mask, the kind of which is now recommended by the CDC (Click here). There is also growing supporting evidence for wearing masks in public from the British Medical Journal (Click here) who say:
"One real concern is the shortage of medical grade face masks for frontline healthcare workers, for which evidence of efficacy is more robust. For the general population, attention has therefore shifted to the use of makeshift or cloth masks. Can research findings from studies on medical grade masks be extrapolated to cloth masks? Although good quality evidence is lacking, some data suggest that cloth masks may be only marginally (15%) less effective than surgical masks in blocking emission of particles, and fivefold more effective than not wearing masks. Therefore, cloth masks are likely to be better than wearing no mask at all."


---

Do's and don'ts of masks:


Do's
Do wash the mask after each use - in a washing machine or by hand in hot soapy water
Do iron your mask - if want complete piece of mind and ensure it is fully disinfected
Do wash your hands regularly - either for 20 seconds with soap and hot water or using an alcohol gel
Do avoid touching your face - unless you have just cleaned your hands
Don'ts
Do not buy and hoard or use medical masks
Do not put a face mask on a child or infant under two - They should also not be used by anyone with breathing difficulties or who can't remove the mask themselves (e.g. unconscious or asleep).
Do not remove the mask by its mouth area - Take it off by the straps and immediately wash your hands after touching it
Do not share masks unless cleaned after each use.
---

Washing info

---
A Mask Strap Hack
I was thinking about how fencers could repurpose items of equipment to make any face covering mask fit better and be easy to take on and off one handed. I came up with this great hack, check out the video here: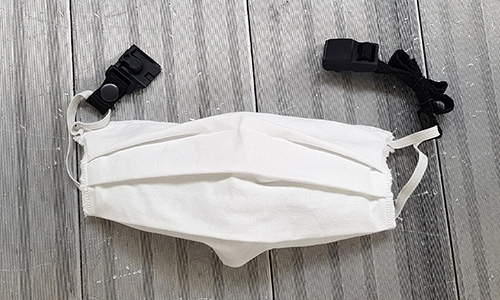 And you can read the rest of Ben's blog here. https://www.leonpaul.com/blog/a-mask-strap-hack/
---