About Leon Paul London
Made in London
We often tell people that we own our own factory in London, England in which we manufacture nearly all of the products we sell. Their reaction is normally along the lines of "Oh that's really good". It is not until they come to visit us and we give them a guided tour that they end up saying
"WOW, you really make all of this stuff in London!"
We are very proud of the fact that we are one of a dwindling number of companies that actually manufacture anything in the UK. We have hot forges, grinders, presses, injection moulding machines, welders, sewing machines, an electronics department, R&D department, warehouse, dispatch, shop and offices all in one place! We try hard to outsource as little as possible, this direct contact with our products at each stage of manufacturing process gives us two big advantages over the competition. Firstly, we can keep an eye on production at every stage meaning our quality control is second to none. Secondly, we have direct access to tools and machinery which enable us to design and develop new products all of the time. We were named in James Fielding's book "Made in Great Britain" as one of the top 75 quintessentially British companies.


Clothing - Tailored in London
Blades - Forged in London

Tailored Style
Our Tailor has more than 30 years' experience making the best-tailored fencing garments available.
Heritage
Nearly 100 years old, Leon Paul was established in 1921 and are the only fencing company run by Olympic fencers! The knowledge we have of real fencing means that we understand what is needed and what can be improved to make fencing better. Leon Paul has designed more groundbreaking fencing products than any other fencing company.
Service
Leon Paul staff are highly trained to offer helpful, impartial advice on all products. Our service doesn't end with your purchase – we provide excellent after-sales and are committed to creating lasting customer relationships that we see us into the next 100 years.
Our Commitment to Fencing

Leon Paul sponsor or support over 200 athletes around the world. That is more sponsored fencers than any other equipment provider.
Rene Paul, in the window of the shop in Covent Garden.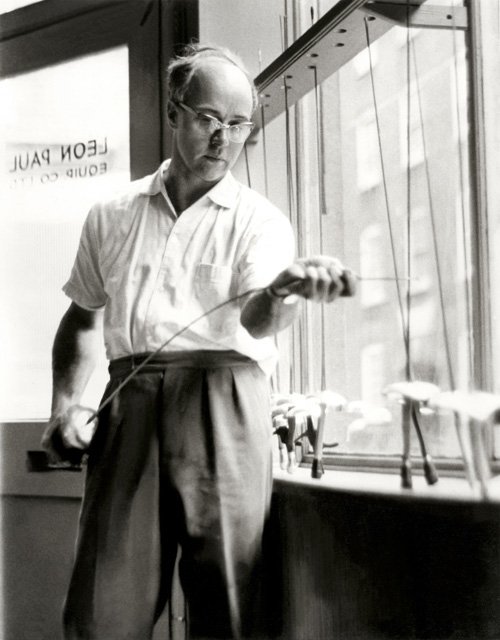 ---
We also sponsor the following fencing federations and these unique partnerships help us research new products and develop equipment with the very best fencers from a range of countries.